Kick off your year with bakery for charity
Happy New Year! Shanghai Young Bakers extend our best wishes to you and your family. We hope you will have an enjoyable holiday in the coming Chinese New Year and are ready to start another great year.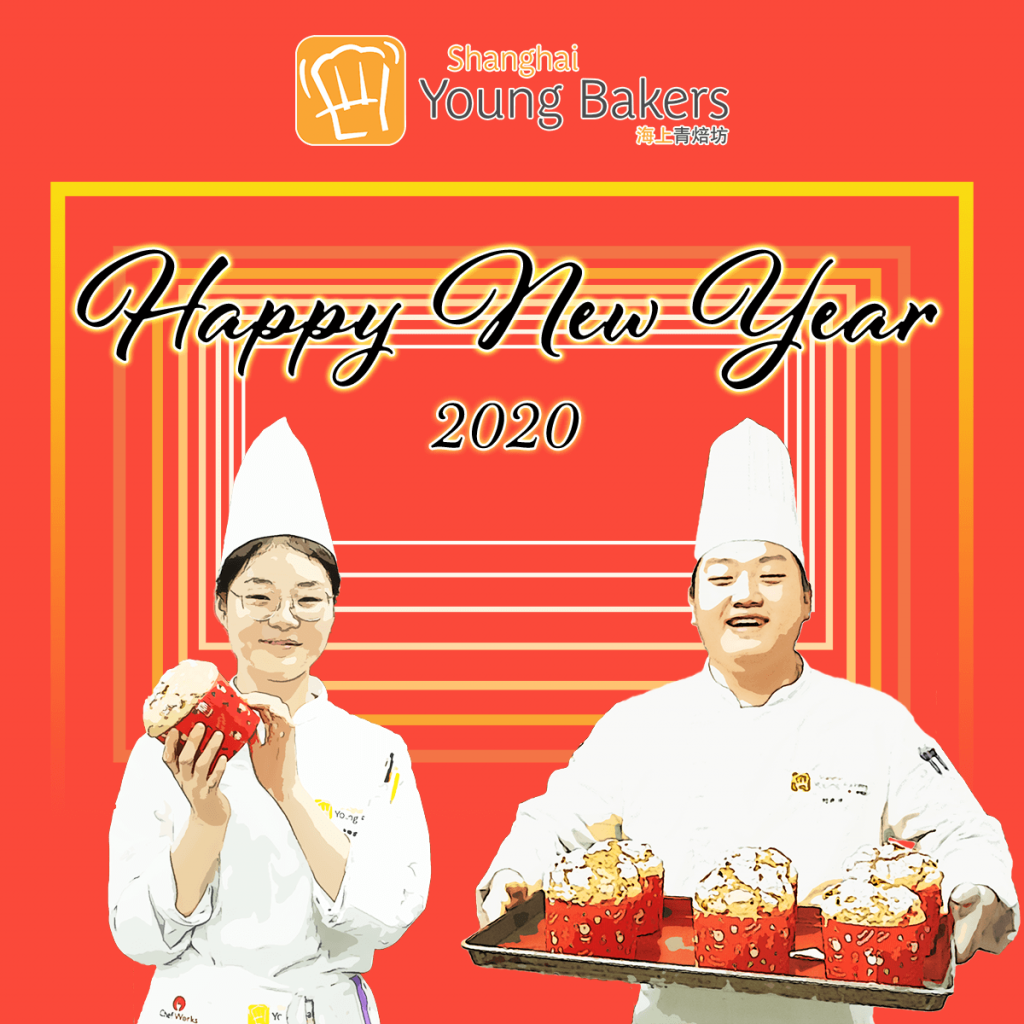 But if you are not that ready yet; if you want something good to make your January family and friend gatherings even better; if you want to learn a new skill or start or new hobby in 2020 – then perhaps our social enterprise services are a good way to kick off the year: order some delicious kings' cakes to share with friends and family, or come to one of our bakery classes to learn something new and have fun at the same time. Either way, the proceeds from these services will directly support our charity programme of providing free French bakery and pastry trainings to disadvantaged young Chinese, and you will be part of this empowering journey.
If your new year's resolution is a new skill, then bakery can be your choice. The following is our schedule of public classes for February 2020. In particular, we have never scheduled a class of dacquoise (a traditional French dessert cake made with almond and hazelnut meringue and whipped cream on top of a buttery biscuit biscuit) before. So this is a very good chance to learn about it! Please feel free to also bookmark our this webpage of public class schedule, so you would know about our latest classes.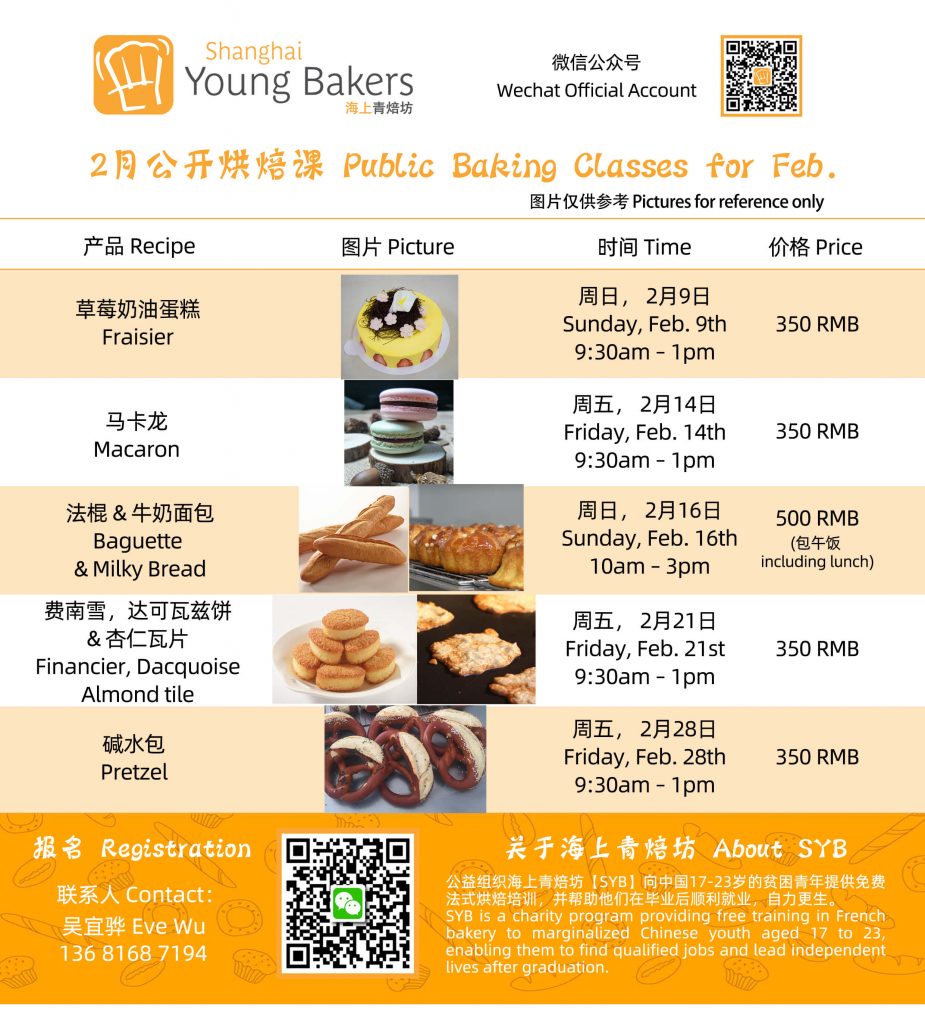 Our teachers have all been trained at the renowned Christian Vabret School of Bakery, Pastry and Cuisine in Aurillac (formerly École Fraçaise de Boulangerie et Pâtisserie d'Aurillac) in France. For an average fee of  ¥100 per person per hour, you will be learning from them about French bakery and pastry techniques. We can also help to you tailor-make private classes for you and your beloved ones. Similar to our catering service, the proceeds from the classes will go directly to our charity programme. If you are interested, feel free to contact our Social Enterprise Coordinator by scanning the QR code below.
Contact:Eve Wu
Tel:136 8168 7194
E-mail:baking@shanghaiyoungbakers.com
Wechat:
In addition, delicious kings' cakes are available for ordering now with the special catering service collaborated between Shanghai Young Bakers and Village 127, our sister social café and bakery. Whether you celebrate Epiphany on 6 Jan. or need something sweet and delicious for a house party, the kings' cakes in this service is a good choice.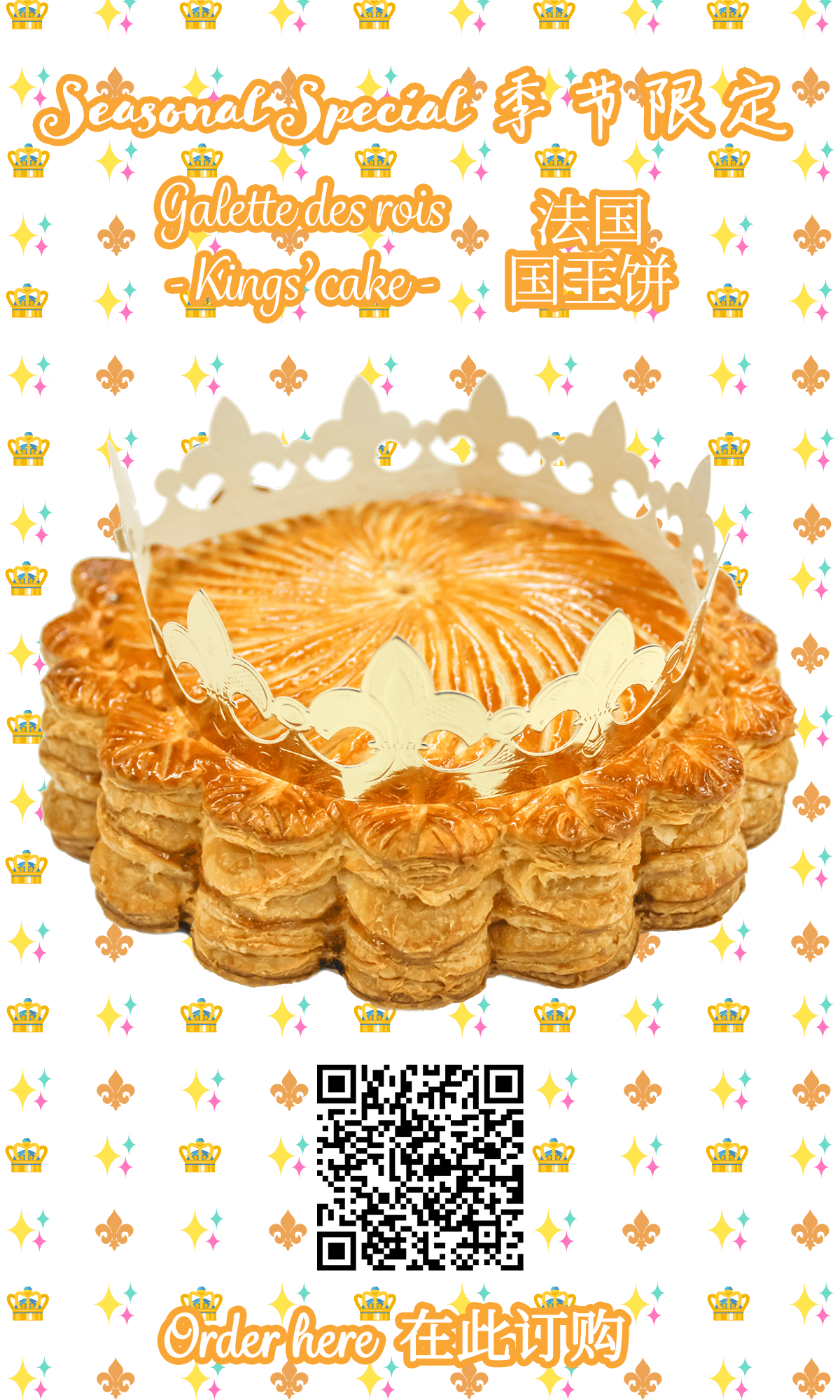 All products are made by SYB's graduates who are now professional bakers at Village 127, using fine, imported ingredients. Through these kings' cakes, you would get, of course, the authentic French delicacy to share with your friends and family; you also get to know about our graduates' bakery techniques and some of their achievements, and support us with your purchases at the same time. You can [click here] to read more about the tradition of kings' cake and a short review of this year's flavour options. (Please kindly note that due to the Chinese New Year holiday, Village 127 will not fulfill or deliver orders during 24 to 30 Jan.)
2019 has been a good year for us, thanks to our sponsors, volunteers and supporters like you. In 2020, we will continue our charity programme and social enterprise, and endeavour to make them better. If you like, please remember to check our official account regularly for opportunities for volunteering and other ways to support us. You are much welcomed to continue to be part of our journey, and we look forward to another year's adventure with you!
Zane Wong
Promotion Coordinator