Founded and operated by twelve French volunteers from the French Junior Economic Chamber (JCEF) in Shanghai in 2008, the Shanghai Young Bakers has grown over the years to become a multicultural team of passionate volunteers and full-time staff. As the project matured and garnered greater public acclaim over its first two years, the founders recognised the need for diversity to better serve SYB's beneficiaries, sponsors, and supporters. While most of the initial volunteers have left the project due to family and work-related reasons, the team has since become more stable by recruiting two full-time directors, as well as drawing expertise and resources from a wide range of professional staff, interns and volunteers.
Today, Marie Augereau and Liu Chenbo, SYB's two directors, collaborate with staff, interns and volunteers of different nationalities to build a fully-sponsored vocational training programme in French bakery for marginalised Chinese youth.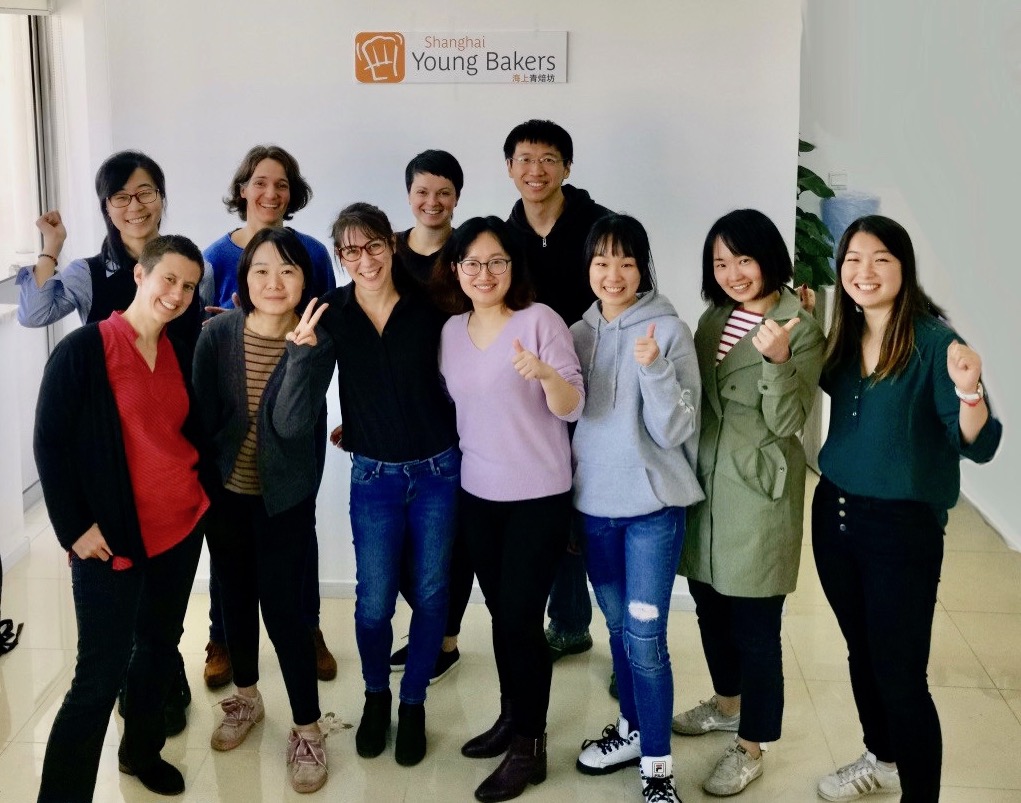 Sara Sun

Sara was quite touched by the "fraternity" advocated in France when she studied there. This reminded her of the aspiration to fulfill the social responsibility. After graduation, she has worked in Africa for more than one year. And she also participated directly or indirectly in several events held by NGOs.  She had found information about SYB with surprise and joined this family full of love in February 2019. She hopes that her experience and the passion for bakery could bring some positive impact on the operations of the organization.

Cécile Cavoizy

After graduating from Sciences Po Paris, Cecile came to Shanghai in 2002 to study sociology and journalism at Fudan University, and later worked 5 years as HR Manager for a French industrial group. She has co-run SYB since June 2009; her role now is to provide leadership and an efficient administrative base for the program as it evolves towards a social enterprise model. She is driven by the desire to set up a professional, meaningful programme, and inspired by the students' thirst and energy.

Eve Wu

Eve Wu is SYB's Social Enterprise Coordinator. Before joining SYB she worked in textile trade for many years, has a wealth of product development and coordination experience. In spare time, she took an active part in public activities. Some of these activities inspired her to start thinking about using her skills and experience, devoting herself to a more meaningful job by helping others. Eve Wu is impressed by SYB's mission, story, and people. When she heard of SYB, she decided to start a new and wonderful "journey".  She formally joined SYB in October 2017. Her main responsibility is commercial activities' liaison and coordination as well as supporting SYB activities development and improvement.

Marine Vitré

Marine is a graduate in Chinese, Sociology and more recently in Management of Development. Before moving to Shanghai to join Shanghai Young Bakers' team, she worked for more than four years in Guangxi Province for the French association Couleurs de Chine in order to provide school fees to children issued from minorities. She is convinced that a little push can place everyone out of the social and financial difficulties and can bring people to lead their path with dignity. Shanghai Young Bakers is for her this little push that helps young students to gain real skills and self-confidence in order to develop themselves and their environment. She joined the team in May 2016 as Deputy Program Director.

Sun Fanhui

Fanhui joined SYB in Oct 2018, as Leader of Scale-Up Project which aims to increase SYB's social impact by transferring bakery/program management skills to other NGOs who also wish to empower vulnerable groups through bakery. Prior to that, she has 4 years' working experience in IT/Internet industry in charge of business requirement analysis and project management. She wishes to better support marginalized people using experience and skills in the private sector.

Mavis Wang

Mavis is a student from Shanghai No.3 Girls' High school. In spare time, she participates in many volunteer activities which aim at helping immigrant children in China,from which she realized that there is a huge gap between the rich and the poor in this society. She knows that it is very hard for them to change this situation and get rid of poverty by themselves. When she knows that SYB is now trying to do something to  help them to get rid of poverty, inspired by SYB's mission and vision, she joined the team in February 2019 as communication coordinator. She is willing to use her skills and efforts to boost this process. She's responsible for media designing and implementing SYB's overall communication strategy.

Dara Nguyen

Raised in France with a Cambodian and Vietnamese heritage, Dara decided to come to Shanghai for her last year of Master Degree in  in International Management. She was very curious and fascinated by Chinese culture and since China has now a powerful impact in International trade, it was apparent for her to move to China and gain experience. Always cared about others and always volunteer for social activities, she previously did a humanitarian mission for disabled children in Madagascar. So, when she heard about Shanghai Young Bakers, which combined her two favorite thing French bakery and social activities by helping the community, she directly applied to join our team as our Partnership & Events Coordinator.

Emilie Rigaud

After an exchange year at Nanjing University to study Chinese and complete her master's degree in cross-cultural relations, Emilie found herself a real passion for Chinese society and culture. After a few years working in Shanghai, she decided to take a turn in her career and do something she had always wanted to: join the non-profit sector. Joining SYB is the perfect way to give back to the Chinese society which has now welcomed her for 8 years, by helping underprivileged Chinese youth to gain financial independence and access to a dignified life.

Floriane Lemoine

Floriane is a graduate from Sciences Po Paris and Peking University. Her studies focused on her two passions: China and sustainable development. After getting actively involved in various non-profits, she realized that the most disadvantaged have all the resources to get out of poverty by themselves, all they need is for people or organizations to tap into their huge potential! Finding SYB to be the embodiment of this belief, she joined the team in 2011 and was program manager from 2012 to 2014. Back to France for new adventures in the NGO/social enterprise world, she remains involved as a program advisor. 

Martina Beszedesova

Originally from Slovakia, Martina is an enthusiastic and self-driven experiential marketing, sponsorship activations and strategic partnerships professional with a high level of customer service and a strong sense of CSR. She is constantly seeking opportunities to further create positive impact, connect with others, build meaningful relationships and achieve continued growth. Martina already has a decade in China under her belt working for a variety of agencies – dealing with a vast array of Fortune 500 companies and global market leaders. She is a high level interpersonal communicator with astute attention to detail and solution-finding vision. Martina strongly believes that businesses should not be purely financially driven and that the future of work is with impact-driven organisations, ones that realise the importance of giving back to the communities they operate in. She devotes the majority of her spare time and professional knowledge to philanthropic causes, volunteering as events organiser for a myriad of local and international charities.

Hélène Hovasse

Mrs Helene Hovasse is the Head of food and agro business department at BusinessFrance China, the commercial branch of the French Consulate. As  the mentor of the project since the beginning of the SYB adventure, she  has provided invaluable support and contacts to the program. 

Liu Chenbo

Chenbo joined SYB in July 2018, as Deputy Program Director in charge of students and their training, partnerships and communication. Prior to that, he worked 7 years as market researcher for both professional research agency and manufacturer sides. Driven by the passion for education, he also did jobs as language teacher and students' career development manager. He hopes to positively influence people around by doing a meaningful job.

Xiao Jinjin

Xiao Jinjin is from Anhui province. She received her high school diploma before enrolling in our pilot programme. She interned at the Hyatt on the Bund and the Crowne Plaza as part of her training at SYB. Xiao Jinjin specialises in French pastry and taught SYB students for four years before taking over as the technical director of SYB's social enterprise. She manages, develops and improves SYB's commercial activities whose profits are used to fund the students' training. Besides making pastry, she is passionate about everything that can improve the SYB programme and help people in need, who, just like her, want to make a positive change in their lives.

Mengxin Chen

Mengxin Chen is currently working as a full time clinical researcher at a world's leading pharmaceutical company.  Started out as one of the weekend market volunteers, she has participated directly or indirectly in almost every SYB market events in the past two years.  Upon her recent appointment as the weekend market coordinator, she strives to continue her devotion as the SYB program embassy, managing the markets, raising funds and most importantly, increasing public awareness of SYB program.

Anne-Claire Rose

Anne-Claire came to Shanghai in July 2016 and felt the need to make her stay in China more meaningful for others. She decided to take part in the Shanghai Young Bakers' adventure. Her role is to develop social enterprise services for companies. Anne-Claire holds a Master in Engineering and has several years' experience working as Project Manager.