Public Baking Classes
Learn French bakery and pastry at Shanghai Young Bakers! 
Our teachers, all graduates of the famous French baking school Ecole Francaise de Boulangerie Patisserie d'Aurillac, will teach you how to make delicious breads and pastries. Public classes are suitable for individuals of any skill level.
Our class schedule for November 2017 through June 2018 listed below:
Sat 2017/11/25 : Traditional European recipes!
Baguette, Pretzel (plain & multigrain)
Sat 2018/01/27 : The "minis" class
Mini éclair, Mini choux, Mini financier, Mini chocolate cake 
Sat 2018/04/14 : Full range of Viennoiseries (level 2)
Croissant, Fruit danish, Pain au chocolat, Pain aux raisins
Sat 2018/05/19 : Colourful pastries!
Macaron, Lemon tart  
Sat 2018/06/09 : Bakery fundamentals
Brioche (plain & orange zest), Country bread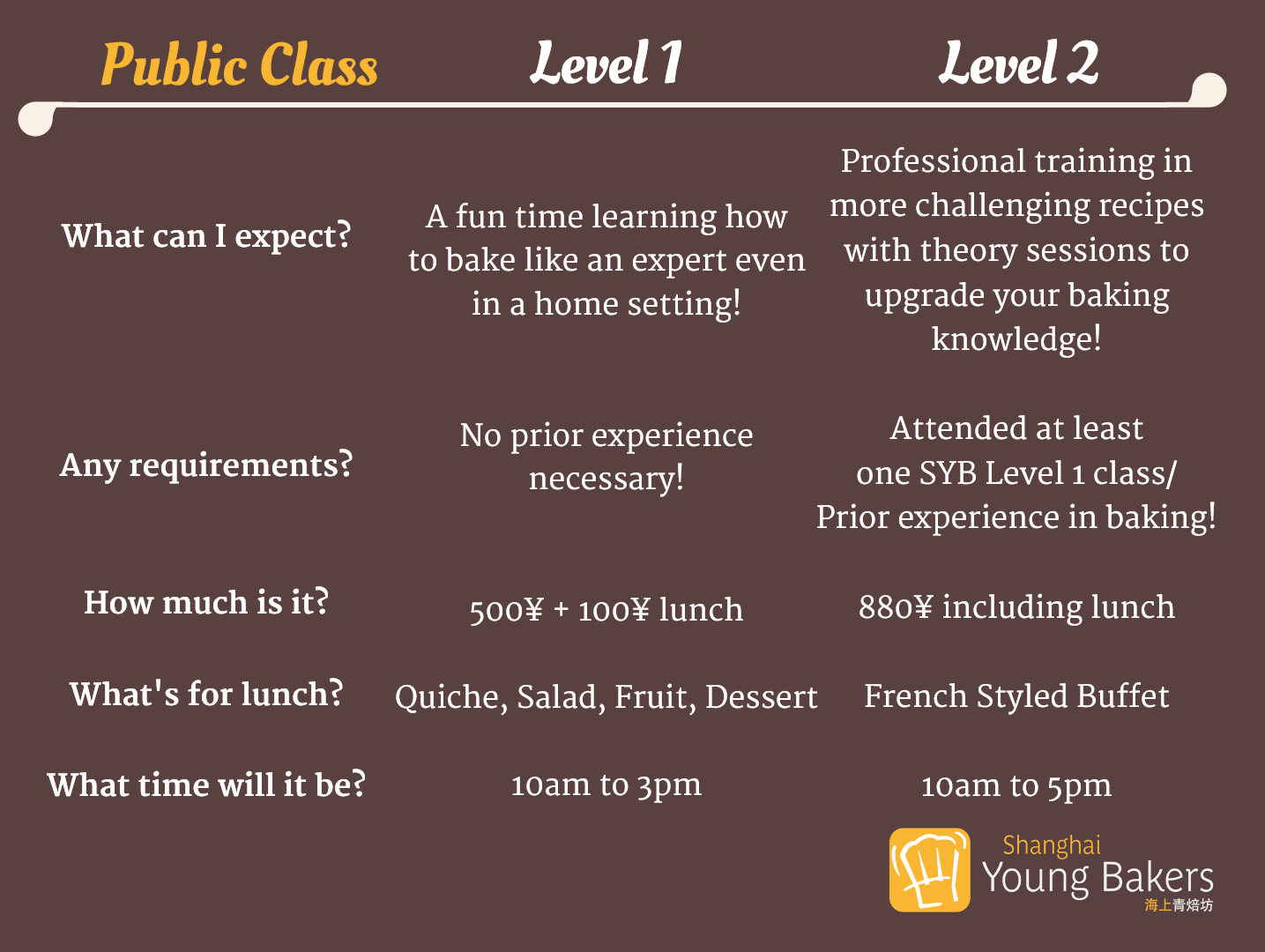 In order to ensure a great learning experience for all our participants, each session will have a maximum of 16 people. However, we also have a minimum requirement of 8 participants per class.
Gift vouchers for our classes are also available! Here's a unique, fun and socially conscious gift option for your loved one!
Looking for something else? Try our private booked classes instead! Organise a class at your own convenience for your own group of family and friends, doing recipes of your choice! 
SYB also has special kids' baking classes that are suited for families, schools and even birthday celebrations! Please contact us for more information.
All proceeds from our classes are used to fund SYB's work in empowering disadvantaged youth through bakery.