(4th batch students are singing 第四届学生唱歌)
 ( students are cutting the birthday cake 学生们切生日蛋糕)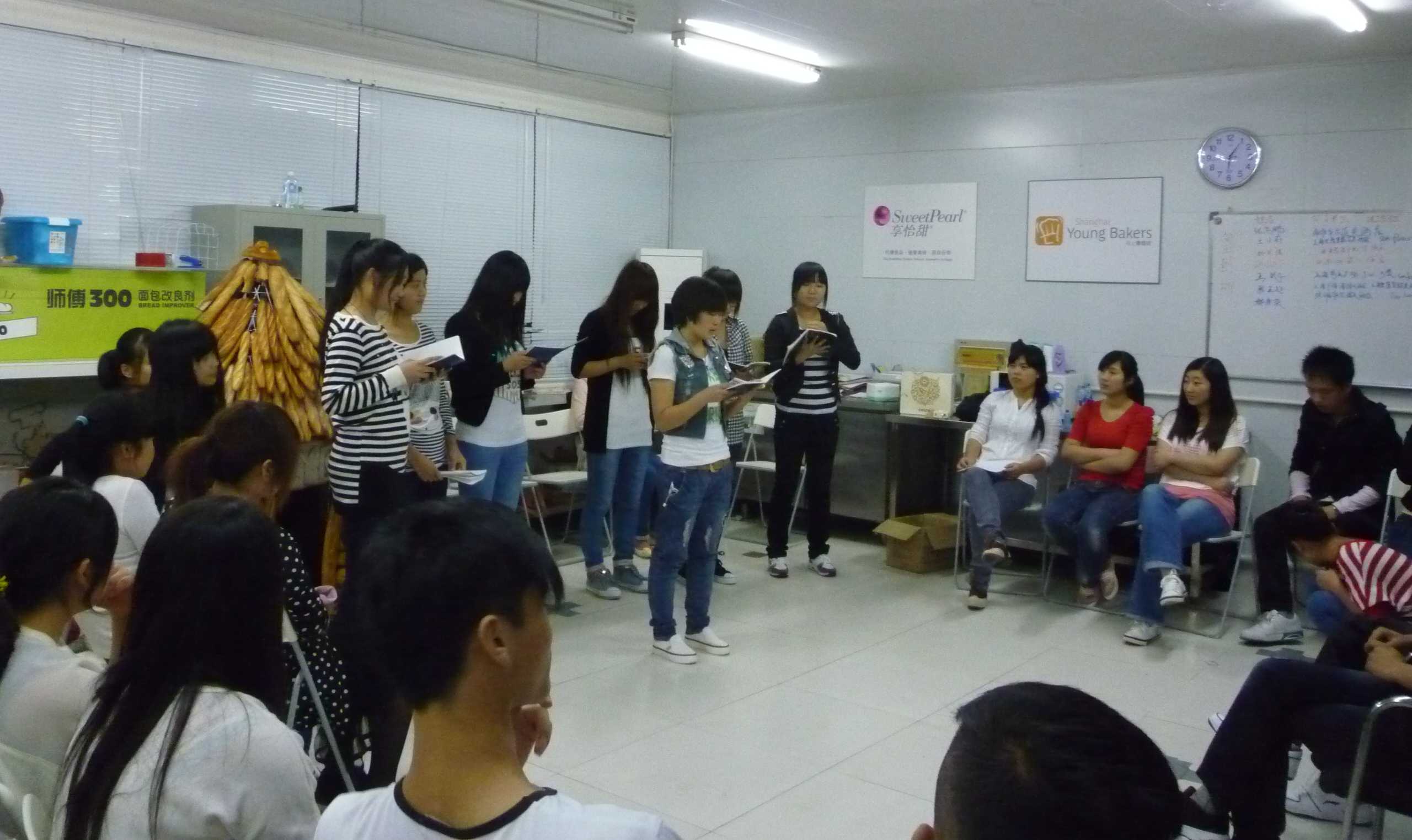 (students are reading poems 学生们在诗歌朗诵)
  (boys and girls are making a wish 大家在许愿)


SYB family reunites for Moon Festival
September 30th was an exciting day for all Chinese, as it marked the celebration of Moon Festival. Everyone in SYB was also looking forward to that day, even more so as SYB was organizing a gathering between its graduate students and the current 22 young bakers.
The whole evening was a lot of fun: the 5th batch students had prepared short performances, some of them singing, others dancing or declaiming poems they had written. The teachers' hadn't
 prepared any song but the students asked every one of them to improvise something, under much laughter.
The goal of that party was of course to celebrate together, but also to enable students of all enrolments to get to know each other, and to strengthen their sense of belonging to Shanghai Young Bakers. As the students were about to start their internships, they bombarded the graduates with questions about their own experiences in hotels. Around 20 graduates were there, from the 1st to the 4th batch, and each of them was a symbol of success for the young bakers. Bakery teacher Wang Li was very moved to see them, she said: "Although sometimes teaching can be tiring, I miss the students a lot once they graduates. I'm so happy that we are all together today!"
The evening ended with a shared dinner, with students' baked goods and of course moon cakes! Xiao Jinjin, the pastry teacher, had prepared a birthday cake and all the students born from July to September blew the candles and made a wish…Their wishes will stay secret, but they probably include to become a great baker!
海上青焙坊家庭中秋大团圆
      9月30日对所有中国人来说都是一个高兴的日子,因为这一天是中国传统节日中秋节。海上青焙坊的所有成员都非常期待这个特别的节日,而海上青焙坊更将组织过去的毕业生与现在22名年轻烘焙师的的大聚会。
      中秋节的整个夜晚都充满了快乐:第五届的学生为这次聚会准备了许多节目。有唱歌,舞蹈以及朗诵他们自己写的诗歌。在快乐的氛围中,学生们邀请没有准备过唱歌的老师们即兴演唱。
      举办这次派对的原因一方面是为了大家共同庆祝中秋节,而另一方面也让海上青焙坊所有的学生们更加了解彼此,加强了他们对海上青焙坊的归属感。随着这届的学生即将展开酒店实习,他们可以向往届的毕业生取经。大约20名从第一届到第四届的毕业生参加了这次派对,他们中的每一位都是海上青焙坊成功的代表。烘焙老师王莉对再次与毕业生们的相见感到非常感动,她说:"尽管有些时候教学会让我感到疲惫,但是学生们一毕业我就非常想念他们。今天我们能再次相聚我真是太高兴了!"
      这次聚会在品尝学生们的烘焙面包和月饼中结束。点心老师肖金金制作了一个生日蛋糕,为所有七月至九月出生的学员庆祝生日,大家吹灭了蜡烛许下了愿望……大家并没有说出自己的愿望,但其中一定包括了成为一个伟大的面包师!