Part of the funding for the future Young Bakers' training program is from the proceeds of SYB's social enterprise services. The social enterprise services include Bakers Basket, Catering Service, Professional Training and Bakery Teambuilding. Among which, the Bakery Teambuilding program is gaining strong interests from more and more corporates. Those are the corporates who show strong social responsibilities and are willing to support charity programs. By taking our bakery classes, their employees are able to participate in a more meaningful teambuilding event.
In our latest teambuilding event, we welcomed the Bayer team. On Friday, July 6th, we delivered a bakery class for the team. During the event, the joyful Bayer participants learnt to make Pretzel and butter cookies.
The teachers were preparing ingredients before the class, while awaiting the participants to arrive. After Teacher Zhang demonstrated the process and the key skills, Ms. Cookie (volunteer) translated for the team.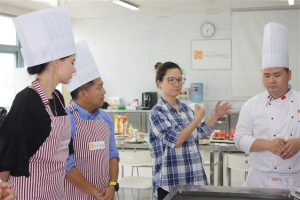 Teacher Zhang shared baking technics with patience.
The assistant teacher is the graduate from this year. She was helping the participant with shaping the dough.
The Bayer team had a fun time chatting along with each other as well as sharing experiences with the assistants while baking.
The participant worked hard on shaping cookies.
Good teamwork on filling the same baking tray.
Photo time! What a fun afternoon we've had!
Many thanks to the Bayer team for participating in our program to support the Young Bakers' training! If you are interested in supporting a charity program, feel free to contact us for a meaningful teambuilding event for your employees!
Email: baking@shanghaiyoungbakers.com
Tel:136 8168 7194
Wechat: