Make Your Own Easter Chocolate Eggs
Dear friends and supporters of Shanghai Young Bakers, we hope you had a good time in the past few days. On 11 April, we streamed our first online public class for free on how to make Easter chocolate eggs. We thank those who joined in. If you missed the public class, no worries. In this post, we will talk about how to work with chocolate and make chocolate eggs.
Before you start, at this post to see what you need to prepare for making chocolate eggs.
1. Take dark chocolate as an example. Heat the chocolate in a double boiler to 50-55 ℃ until it melts. As the chocolate is becoming fluid, use the spatula to stir the chocolate slowly in the same direction to help with the melting but avoid adding in air bubbles. When you raise chocolate up with your spatula, the perfectly melted chocolate should go down in a smooth and continuous flow. At this point, we can move to the next step.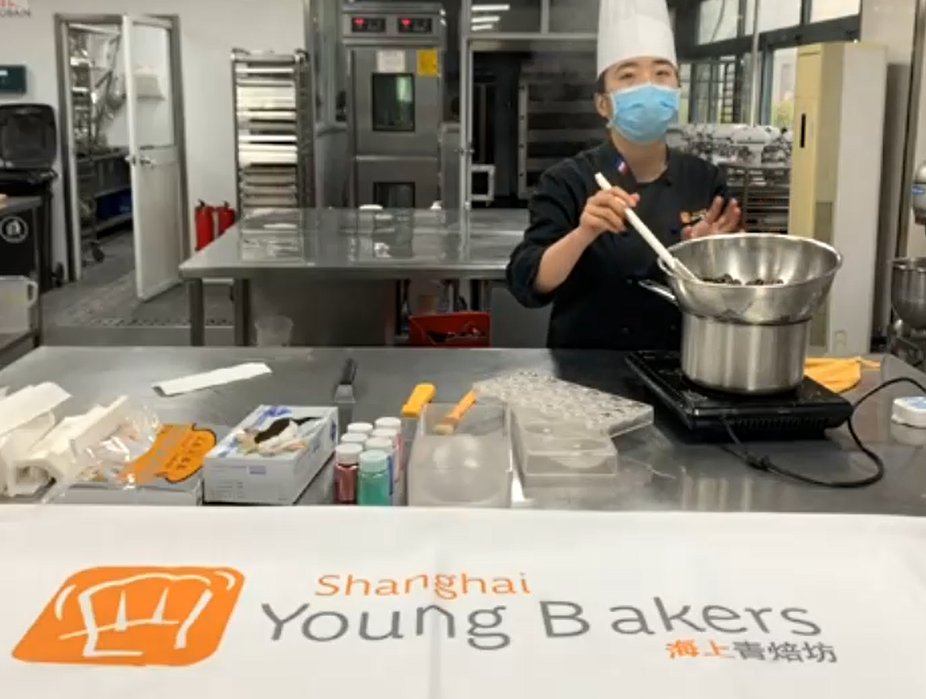 Note: it is important to remember that since chocolate contains cocoa butter, controlling the temperature of chocolate is crucial. A higher temperature would make the chocolate hard to consolidate, whereas a lower temperature leads to a dull surface after consolidation. It is also important to remember that different types of chocolate have different target temperature for melting. (The target temperatures for other kinds of chocolate will be summarized in the following content.)
2. Pour 2/3 of the chocolate onto a clean and flat marble or stainless-steel surface. Use a chocolate scraper to continuously spread, stack, and spread the chocolate. Repeat the process quickly to cool the chocolate down to a proper temperature: 27-28 ℃ for dark chocolate. Try not to create air bubbles when you do so. Next, move all of it back to the bowl with the warm 1/3 of chocolate and heat it to 30-31 °C.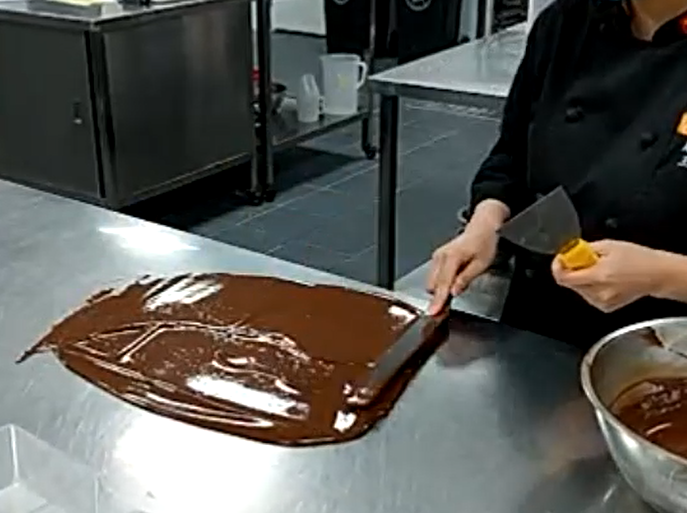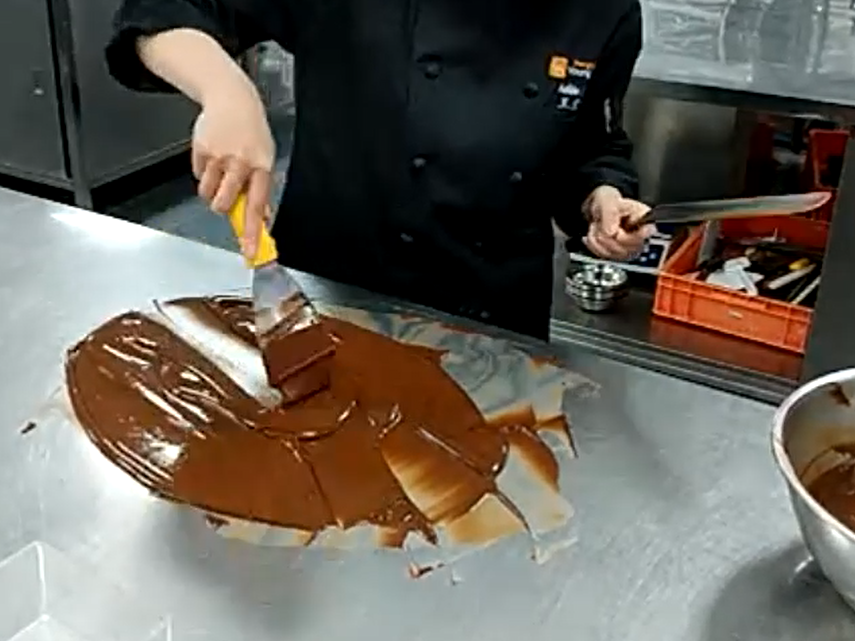 Note: if you do use a double boiler to melt the chocolate, remember to wipe very clean the bottom of the bowl you use, as no water should be added into the chocolate.
Summary: The reference of different chocolate types and their working temperature are as follows:
Dark chocolate:
50-55 ℃ → 27-28 ℃ → 30-31 ℃
Milk chocolate:
45-50 ℃ → 26-27 ℃ → 28-29 ℃
White chocolate:
40-45 ℃ → 25-26 ℃ → 27-28 ℃
3. Pour the chocolate into the chocolate egg moulds. If you are making hollow chocolate eggs, you need to pour out the excess chocolate. Remember also to knock on the mould to expel air bubbles in the chocolate. Then, reset the mould upside down on the table to allow extra chocolate to drop on to the table. To make fully solid eggs, simply fill the mould and knock out the air bubbles. However, solid chocolate eggs require a lot of time to solidify.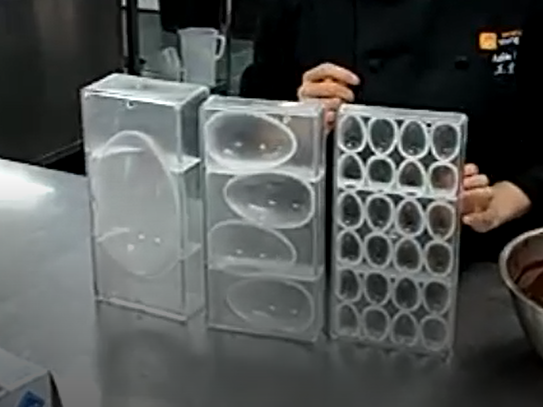 4. When the chocolate has fully consolidated, there should be enough air in the gap between chocolate and the mould and it's the right time to demould it.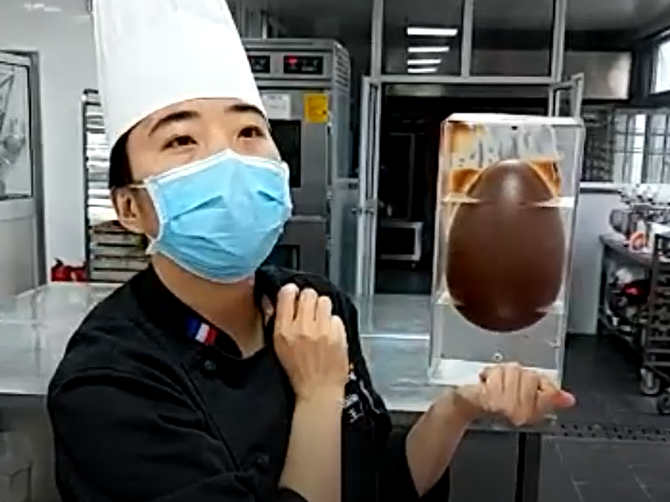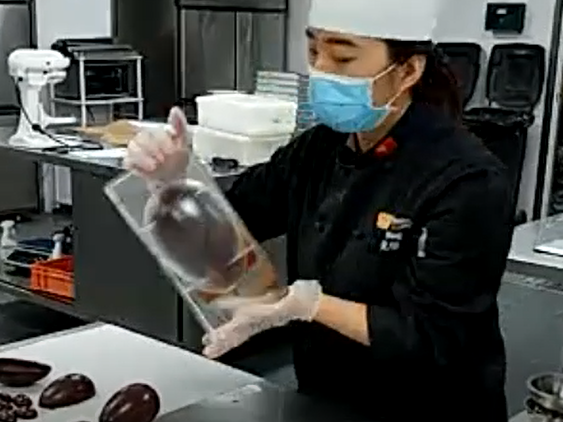 Note:Wear gloves to avoid leaving fingerprints on the chocolate surface.
5. Put two halves of a chocolate egg on the bottom of heated surface, melt the edges of the chocolate eggs slightly, and then put the two parts together to get a perfect hollow chocolate egg!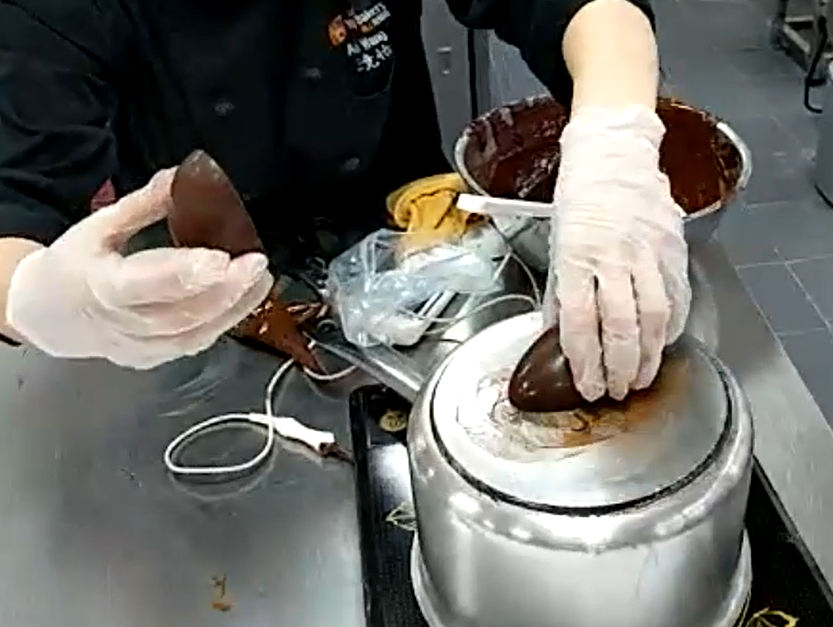 6. You can decorate the chocolate eggs with food colouring powder to make your own unique Easter chocolate eggs.
Q&A
Q: Will there be online public classes in the future?
A: Of course, we are planning our new public classes and they would be launched as soon as the situation permits. Please pay close attention to our WeChat public account to be informed with upcoming activities.
Q: What brand of chocolate is recommended?
A: In the online class, we used Valrhona. But you can use the one you like.
Q: What brand of food colouring powder is recommended?
A: In the online class, we used dusting powder from Merck. But there is a wide-range of food colouring products you can use. We may need a separate post to discuss them.
The above brands are only for reference and do not have any commercial cooperation with Shanghai Young Bakers.
Imagine that you are tasting silky chocolate. Do you have a feeling of being surrounded by happiness? Do you want to enjoy delicious chocolate products but are exhausted of making it at home? No worries, here are a few products in our catering service that may help to fulfill all your beautiful wishes for chocolate.
Brownie
The outer layer is a bit crispy, but inside carries a bit of silky chocolate. The pure and mellow flavor spreads and it must be sweeter than the taste of first love.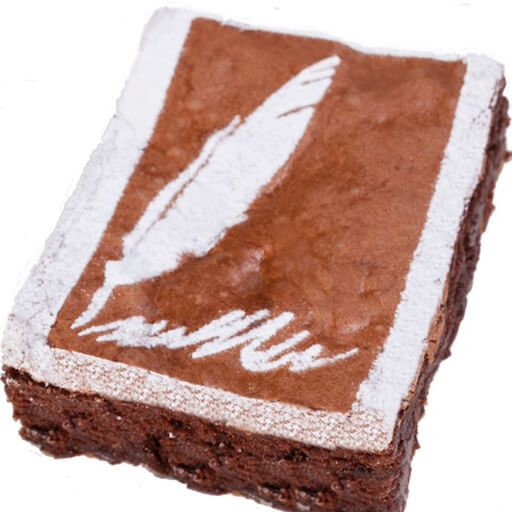 Chocolate Mousse
The flavor of this product is quite rich. The first bite comes to cocoa powder so it tastes slightly bitter but with a velvety feeling. Then you could taste moist cream and soft mousse, melting in your mouth. Finally, the sweet remains for a long time. You would be amazed by just one bite.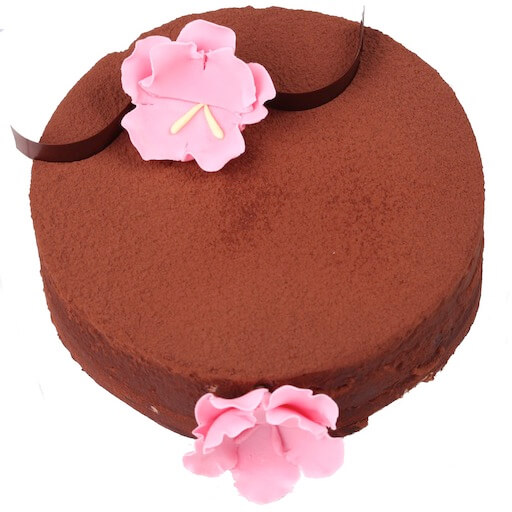 Chocolate tart
If you feel it is too much to eat the above two desserts, you should try the cute and small chocolate tart. The golden crispy tart crust is covered with silky chocolate, with chocolate chips on the top of it. Look at this lovely dessert and it's time to show it on your WeChat Moment!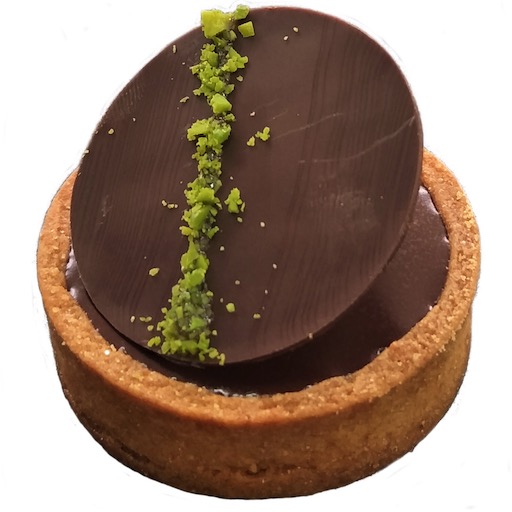 Of course, all these products are more than delicious chocolate for your palate. As usual, proceeds from the selling of these products will help fund the charity program of SYB. Every time you order, you are helping,like rain nourishes plants in spring,disadvantaged youth Chinese to become professional bakers and have a bright future. So scan the following QR code and pick your favourites!
Visit our ordering page by scanning/recognizing the QR code: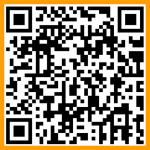 For catering customization or any enquiry, contact Ms Eve Wu: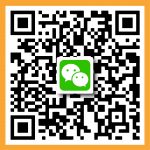 Tel: 136 8168 7194
or Email: baking@shanghaiyoungbakers.com
Thank you for your attention and support for the SYB and see you next time!
Evian Chen
Communication Coordinator