Graduate Information
Info updated in January 2013
In the first four years of operations, a total of 72 students from different origins and background graduated from SYB.
Today, 67% of them are working in the bakery industry.
Since SYB started applying a strict and selective recruitment process for its students (based not only on partner NGOs recommendations but also on a face-to-face or phone interview with each candidate), the number of graduates remaining in the bakery industry has risen to 100%.
In 2012, 80% of the students had one to three bakery job offers even before graduating. 100% of the students started their career as a baker or pastry chef within 2 weeks after graduation.
Of all the SYB graduates working in the bakery industry, 72% of them work in Shanghai, while 17% found related work closer to home. 15% moved to another city (Ningbo, Hangzhou, Suzhou…) to pursue their bakery career.
They work in the following environment: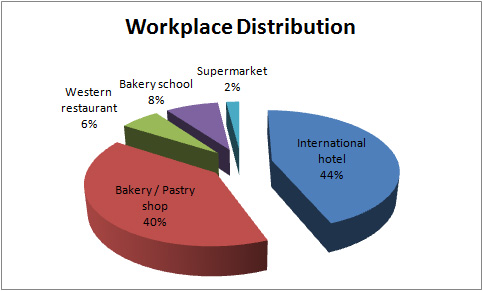 Some of the hotels in Shanghai where SYB students work after graduation include:
Waldorf Astoria, Peninsula, Grand Hyatt, JW Marriott, Andaz, Hyatt on the Bund, Pudong Kerry Hotel, Himalaya Hotel, Royal Meridien, Grand Mercure, Renaissance, Intercontinental, Sofitel Hyland, Radisson…
Some of the bakeries and pastry shops in Shanghai where SYB students work after graduation include:
Sunflour Bakery & Café, Pantry's Best, HoF, Baker & Spice, Brioche Doree, Glo London…