SYB Graduates, Bakers on the Stage
Jiang Zhaosheng: From Factory Worker to Baker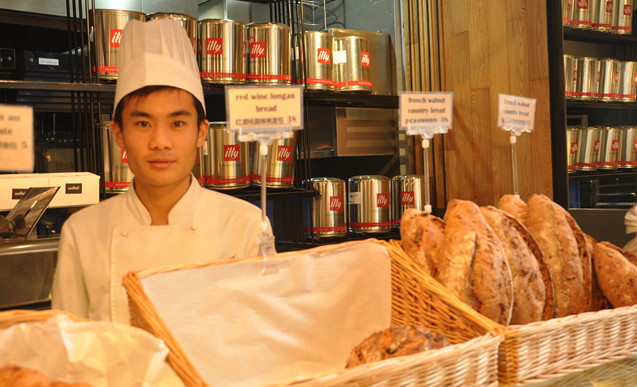 "When I baked my own bread for the first time, it felt incredible when I had a whiff of the bread. The teachers recognized my efforts and said that I had potential in being a baker," said Jiao Zhaosheng, who belonged to the first batch of graduates from Shanghai Young Bakers. The Anhui province native, now works as a baker at Sunflour, one of the most prestigious bakeries in Shanghai.
Five years ago, Jiang joined Shanghai Young Bakers after a recommendation from another NGO Chi Heng Foundation. "I was very thin at the time so I thought I would have more food to eat if I became a baker!" Before that, he worked in a cloth factory in Zhongshan city in southern China's Guangzhou Province. After that, he stayed in Jiangxi Province for half year and then moved to Handan city in Hebei Province, to work as a decoration worker. "Life in cloth factory was so hard. We needed to work overtime every day. I wouldn't know where I would end up if I had not joined SYB. I wouldn't have dreams."
Although Jiang had been to many cities outside Anhui, he was scared when he first came to Shanghai. "It was the first time I met foreigners." Fortunately, his father encouraged him to try and thesocial educator hired by Shanghai Young Bakers helped him a lot. "When I first arrived, my social educator very kindly prepared everything I needed, including a toothbrush.This convinced me to stay longer," Jiang recalled.
Apart from the anxiety of getting around the busy metropolis, Jiang also needed to deal with the pressure of learning baking skills. The baking teachers he met during his internship were big names in the industry. In order to catch up, he worked very hard and spared no effort. He found out that the relationship between teachers and apprentices was complicated as well. "If the chef disliked you, he would teach you little." Luckily, the chef treated Jiang very well. He mentioned that "The chefs will teach you more if you come from a NGO. SYB provides a good platform for entering the industry."
These days, Jiang works at Sunflour on Anfu Road. He takes the night shift from 1 am to 8 am, 6 days a week. He is gradually working towards bigger things for his career. "In the long term, I want to be the pioneer in the baking industry, owning my bakery in Shanghai and even in foreign countries," he said.
Fan Chunrong: "I needed to support my family"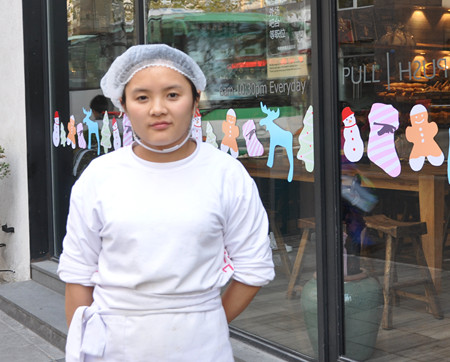 Fan Chunrong, came from an impoverished family in Baoji city in Shanxi Province two years ago. Prior to joining Shanghai Young Bakers, she had never imagined herself to be a baker. "Maybe I would be a waitress in a local restaurant in Baoji. Anyway, I couldn't have left my hometown without SYB," Fan said when being asked about SYB's influence on her life.
Fan, who now works at Baker & Spice in Shanghai, had a tough childhood. Unlike most children in the bigger cities in China, she was unable to complete her studies because her family was in debt and couldn't afford her school fees. Fan had to borrow money from her teacher to pay her tuition fee. When she graduated from middle school, her academic performance was good but, she was forced to quit school.
But Fan had a stroke of luck after encountering Shanghai Young Bakers in 2011, the year when she graduated from middle school. Her original reason of joining SYB was very simple:"if I leave home I wouldn't be a burden for my family anymore. I would be able to contribute to paying for my family's expenses." She has come a long way since and now even wants to save more money in order to open a bakery in her hometown. "My father told me that the financial position of my family was much better after I started training with SYB," Fan said with a tinge of pride.
However, learning bakery in Shanghai was not always easy. It's a bitter-sweet experience. Once, the students received an order of 100 baguettes, but all the baguettes made by the students were far from satisfactory. The customer complained and Fan felt very sorry about that. "What was also annoying was that I wasn't tall enough to reach the upper oven," Fan said. She also met with difficulties when communicating with the local staff during her internship. They were cold to outsiders.
But Fan also enjoyed the warmth of SYB family as well as the excitement of staying in Shanghai. "It was my first time to leave my hometown to such a faraway city, especially to a metropolis such as Shanghai. I'm getting bolder and broadening my horizon. I've learned how to interact with people, and even learnt how to interview others." Fan misses her classmates. "I can't forget the first time I learnt how to make tarts in Teacher Zhang's class. They were delicious and we felt a great sense of achievement after making them."
Now, Fan works five days a week from 8:00 am to 4:30 pm. Her chef Dan speaks English and Fan works as interpreter between him and other staff. Her biggest motivation was her family. "I want to change my family's fate. When my brothers and sisters get older, I hope they can help in my own bakery."
Zhang Shuai: "I have the chance to go to France"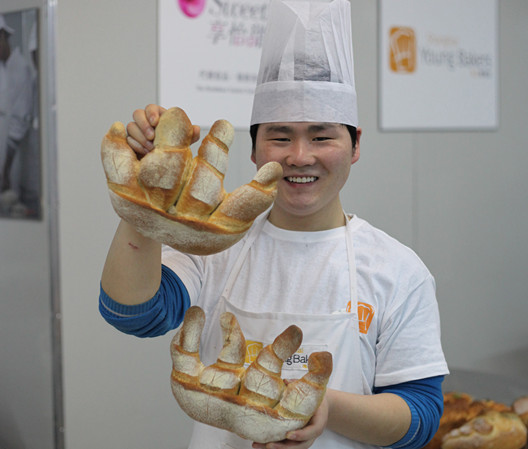 Zhang Shuai, a boy from Zhumadian City, Henan Province will have the opportunity to go to France in one year. He started taking French classes sponsored by Alliance Francais in the November of 2012, and he will later further his baking studies in France. "If I really do go to France, I will be the first person in my hometown that has the chance to study abroad," Zhang said proudly.
Zhang joined Shanghai Young Bakers in 2011 with the recommendation from another NGO, Chi Heng Foundation. At that time, Chi Heng was checking the study status of all the students that they were supporting. They knew that Zhang didn't want to continue his studies at school any more so they recommended him to SYB. "At the beginning, I thought SYB was a factory. The staff in Chi Heng Foundation gave me the recruitment brochure of SYB and told me that I could learn a skill and find a job here," he said. That was a turning point of his life. Zhang started his one-year French bakery training.
At SYB, Zhang was required to learn techniques regarding bakery as well as do internship in JW Marriot, one of the five-star hotels in Shanghai. "SYB is like a crash course. Generally speaking, if you want to learn bakery, you have two options, either go to bakery training school or work in a bakery. In school, they will only teach you theories while in a bakery, the working burden is very heavy. In SYB, you can learn and work at the same time. The baking skills taught by SYB are very practical. You can easily apply them in the internship," said Zhang.
Things were not as smooth as Zhang had earlier anticipated at the beginning of the internship. Coming from a small city in Henan Province, the metropolis of Shanghai was crowded and the prices were high in Zhang's eyes. When he first started his internship, he was unfamiliar with the environment, work and people. He couldn't even open his mouth to speak. Fortunately, the senior teachers in JW Marriot were very nice and taught him a lot of things. Also, with the basic skills he learned in SYB, he could easily catch up the pace in JW Marriot. "Compared with those interns from other institutes, our SYB students had better skills," Zhang recalled. "After graduation, I went back to the baking center once. When I saw my desk, I wished I could make bread on that table again".
Currently Zhang is working at JW Marriot hotel from 7am to 4pm or 8am to 5 pm. He starts his work by kneading the baguette dough every day. Looking back on the old days, Zhang remembered that his family didn't want him to do this job because they hoped that he could be an excavator driver, like many other people in his hometown. However, the last time he went back home with the bread he made by himself, his family liked it. Now they begin to appreciate his choice, and are pleased that he's working in a five-star luxury hotel.
Another thing that made Zhang stand out from his peers in his hometown is that he will have the opportunity to go to France. In fact, he was surprised when he found out that he won this opportunity because everyone was applying for this precious chance. "France is the center of the baking world. I want to learn more traditional French bread, improve my skills and meet more people. After that, I will stay in SYB as a teacher for 3 years. "
Zhou Haizhou: Sweet and bitter experience in SYB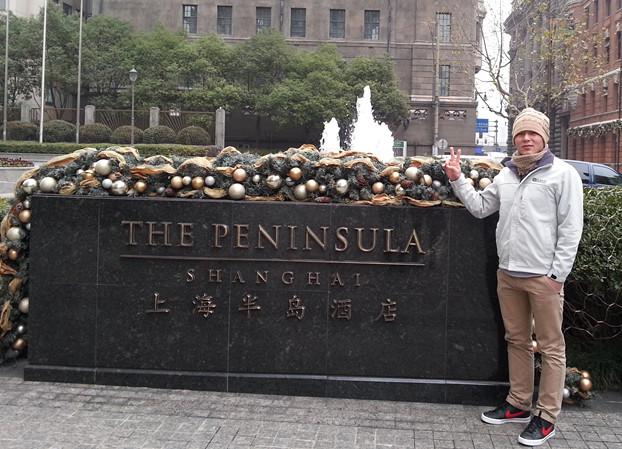 "The first time I heard about Shanghai Young Bakers, I thought baking was equivalent to making steamed buns," Zhou Haizhou laughed as he said this.The 23-year-old, came from Zhumadian city in Henan Province and joined Shanghai Young Bakers in 2011.
Before joining Shanghai Young Bakers, Zhou Haizhou was a high-school student. "I was very naughty when I was young. People in my hometown thought I was a bad guy," he said, He has a younger brother who is currently attending college. Since his family could not afford two children's tuition fee, Zhou decided to come to Shanghai Young Bakers to learn a useful skill in order to support his family. The city of Shanghai was an important factor that attracted him to sign up with Shanghai Young Bakers. In his point of view, Shanghai is a place that one can only see it on TV. "I had no idea what birthday parties were until I came to Shanghai. When I was a kid, my mother gave me an egg for my birthday sometimes. We don't have any bakery in my hometown."
But the experience of living in Shanghai is bittersweet. "Working in the baking industry is not easy," Zhou said. When he first started his internship, he met with difficulties when he tried to do something new. However, Zhou was not a person who would give up easily. "You can watch the process when teachers do thing. That's another way to learn new things,"He said. He also enjoyed listening to the roar of the dough machine. "You can rely on the sound to judge whether the dough is good or not."
After graduation, Zhou remained at the Peninsula Hotel, baking bread with other colleagues from 8 am to 5 pm. Zhou said he is grateful to have a more stable job compared to his peers. "I can stay in this industry even when I grow older and I know the future is bright." Now his aim is to fly to France and learn bakery in the center of the baking world.
Wang Huiping: "My internship was a moving experience"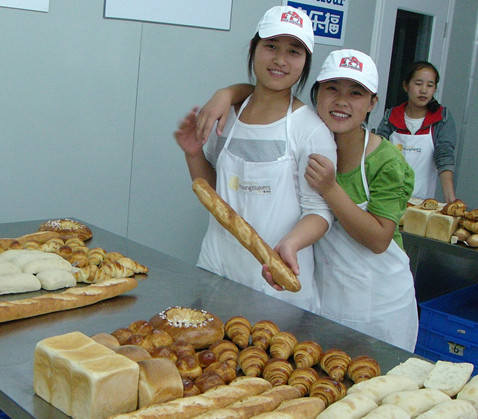 Working at Sunflour on Anfu Road everyday, Wang Huiping, a 20-years-old girl from Fuyang city, Anhui Province, is now a baker. It is hard to believe that before being a baker, she was a worker in an electronic equipment factory in Songjiang, Shanghai. "We had to work from 7am to 9pm every day with a low income. I always felt homesick at that time." From a factory worker to a qualified baker: that dramatic change was brought about by Shanghai Young Bakers.
Wang Huiping's father passed away when she was 12 years old. Coming from an impoverished family, her mother had to struggle to bring her up, along with her three elder sisters and one younger brother. Fortunately, Chi Heng Foundation, a non-governmental organization based in Hong Kong helped her a lot along her growing trail. A few years after she graduated from middle school, Chi Heng recommended Shanghai Young Bakers to Wang and told her that she could learn a skill there and even have the opportunity to study abroad. "Although I had no idea about what baking was at that time, I knew this was a good career with a relatively high income." So Wang chose to join SYB.
In Wang's mind, the days in SYB were a happy experience. Although she had worked in a factory in Shanghai, her first visit to the Oriental Pearl TV Tower was accompanied by her SYB classmates in 2011. Her happiest memory in SYB was a time where all the students baked baguette together. "It was an order from a restaurant. After sending our products, we started to compare who did the best job." She also did an internship at Peninsula hotel. "It was enjoyable and moving. Once I got a cold, and my chef Lisa took me to the clinic although she was very busy at that time. My chef from Hong Kong treated me well too. When it was my turn to carry the ingredients, people would help me." Since she has never seen some of her classmates after graduation, she has been missing them very much.
Now, Wang's dream is to improve her skills within two years. "I would like to go back to work in a hotel. In the long term, I want to become a chef or a manager." Holding this dream, Wang knows the importance of perseverance and responsibility. "Sometimes I feel tired when I'm working, but I think as I have spent one year to learn bakery, I have to persevere."
Liu Xiaodong: "Thanks to SYB I experienced the feeling of being at school again"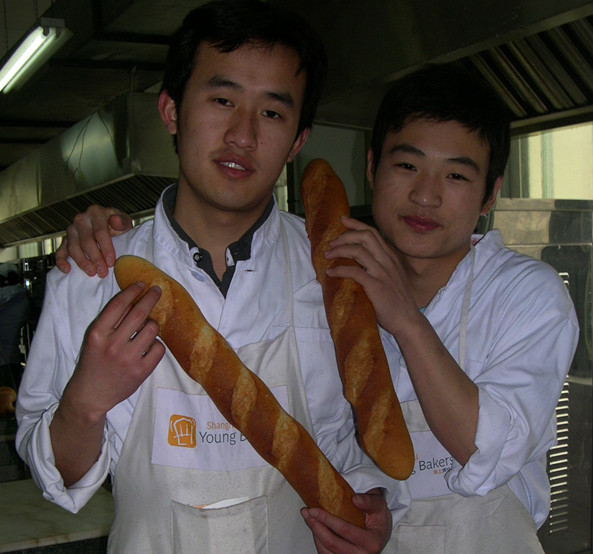 "The best thing in Shanghai Young Bakers is that I could experience the feeling of school again. Although I was not able to go to university, in SYB, we have qualified teachers and equipments. We face all the challenges together as a big family," says Liu Xiaodong, a graduate of Shanghai Young Bakers second batch of students.
Liu Xiaodong came from a poor family in Tianshui city, Gansu Province. His parents passed away when he was a child so he was brought up by his uncle, along with his two sisters. Because the family was not able to afford all the children's tuition fee, Liu left his hometown after he graduated from middle school. "I was very optimistic though, and I lived as a normal child did," Liu smiles when talking about his childhood.
Quitting school at an early age, Liu went to Beijing and worked as a waiter in a muslim restaurant to support his family. "I earned 750 yuan for the first month and 800 yuan for the second. I didn't spend my salary because I didn't have any rest time," Liu says. Perhaps Liu's life would never have changed but for the recommendation from Children of Madaifu, a non-for-profit organization whose mission is to alleviate hardship for orphans in China's more deprived areas. Madaifu's staff introduced SYB to Liu Xiaodong, who decided to join since he wanted to learn a skill to support himself as well as his family.
"SYB is a good platform to start your baking career," Liu comments. His best memory in SYB was the first time when he successfully baked baguette. "It was very hard at the beginning, but finally I made it! Succeeding as a baker depends on your skills, the time you spend on working and your feeling. It took me half a year to bake a good baguette. During internship, I learnt how tobake 400 kg of baguette in a short time," Liu recalls. He also made a lot of friends during his internship. "I learned how to deal with other people and I cherished the opportunity SYB offered me. I spared no efforts to learn baking."
Currently, Liu is working as a baker in Kerry Hotel. Because of his talent and hard work, he has been promoted twice last year. In the long term, Liu's ambition is to open a bread counter in his hometown's supermarket and then expand its scale.
"I can say that SYB changed my fate. It broadened my horizon," Liu says.