Step into the world of Macaron on April 9th!
4月9日让我们沉浸在春天马卡龙的世界!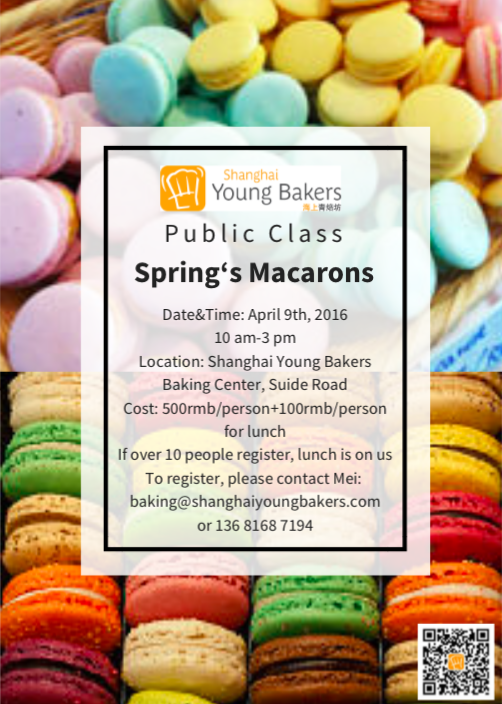 Now it's officially spring day! While you could admire the changes in the season of fresh flowers and cherry blossoms, why not celebrate it with friends and join Shanghai Young Bakers to learn the recipe of Spring Macarons?
    现在正式步入春天啦!你可以欣赏这鲜花绽放的季节变化,但为什么不走出家门,和海上青焙坊一起制作五颜六色的春季马卡龙来庆祝这个美妙的季节?
  The colorful and tasty macarons are irresistible! Smooth top, ruffled circumference and a flat base characterize this intricate confection originated in France. It is mildly moist and easily melts in the mouth. Macarons can be found in a wide variety of flavors as well as colors. In this class, under the guidance of our expert Pastry teacher Xiao Jin Jin, you will master French bakery techniques and tips to succeed your own macarons at home. Your friends will be surprised by your amazing work!
    这些色彩缤纷的美味马卡龙是让人无法拒绝的诱惑!这种源自法国的精致传统西点有着标志性的造型:平滑圆润的顶部,带着褶皱的边缘,还有扁平的底部。它中间的夹心柔滑,入口即化。马卡龙也有着许多不同的口味和缤纷的色彩。在这一堂公开课中,你会在我们专业的法式西点老师肖金金的指导下掌握基本的法式烘焙技能,学会在家制作马卡龙的诀窍。你的手艺一定会让朋友们惊叹不已!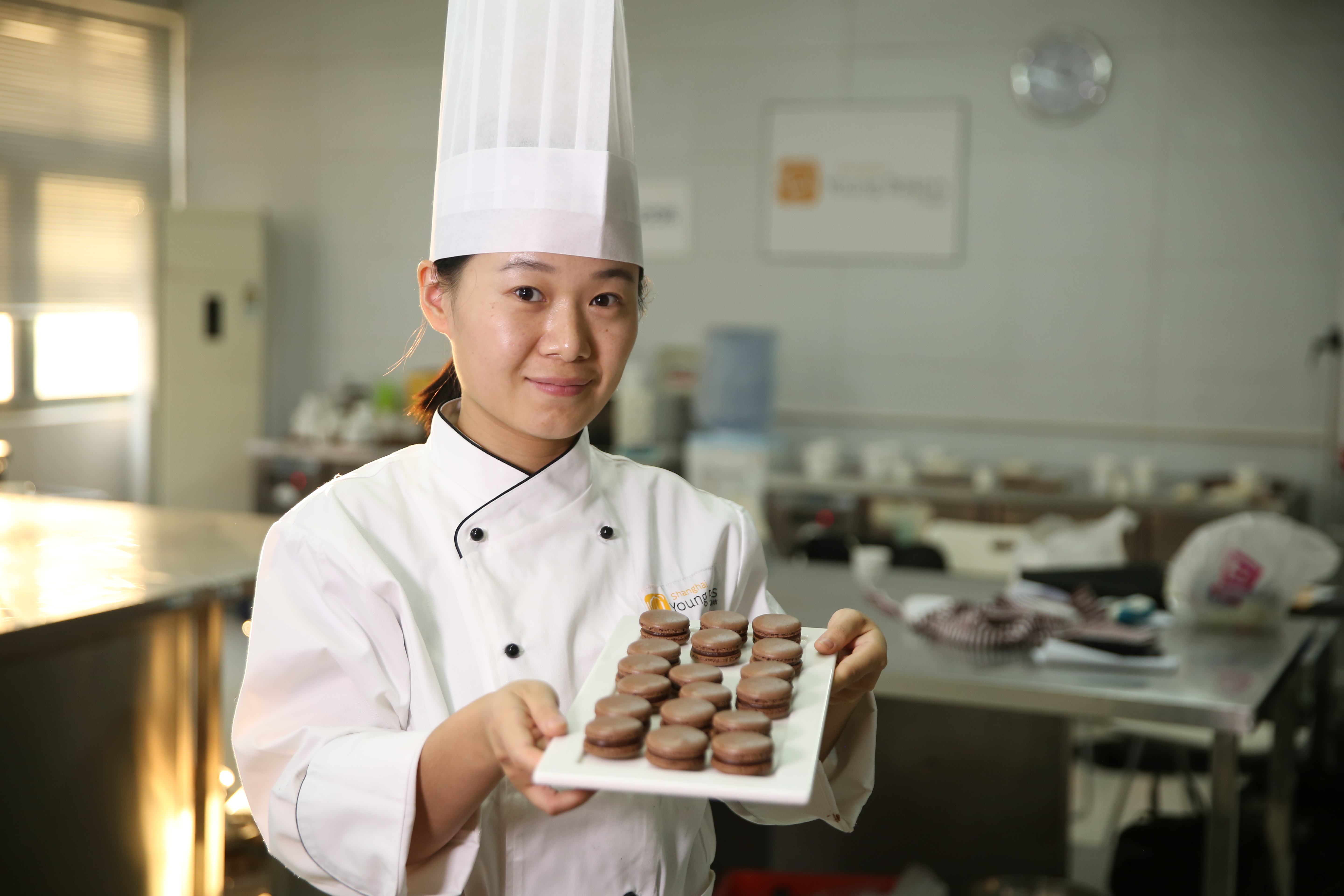 It is also the opportunity for you to meet new friends in the SYB community that shares the passion for pastry and bakery, and meet Xiao Jinjin, our brilliant pastry teacher now became the Technical Manager of SYB Social Enterprise.
  这同时也是个认识SYB社区新朋友的好机会,在课上你和其他的烘焙爱好者一起分享烘焙热情,并且和肖金金见面。她是出色的西点老师,现在也是海上青焙坊社会企业的技术经理。
  Most importantly, participating in the class will also directly support SYB's charity program. All proceeds from this class and SYB's other social enterprise activities help fund one year of training in professional French bakery skills for disadvantaged Chinese youth. With these vocational skills, SYB students are able to find stable jobs and lead independent lives after graduation.
  Be an instrumental part of SYB's social change while enjoying a fun day of baking!
  更重要的是,参与此次课程的所有学员都将为海上青焙坊的公益项目出一份力。对外课程和SYB其他社会企业活动的收入都将用于资助海上青焙坊的慈善项目,都用于帮助SYB的慈善项目,为中国贫困青少年提供一年免费法式烘焙培训。这些青年在具备了烘焙这项技能后便有条件自立更生,养家糊口。
  快来报名参加我们的公开课,在享受烘焙乐趣的同时为SYB的慈善助力!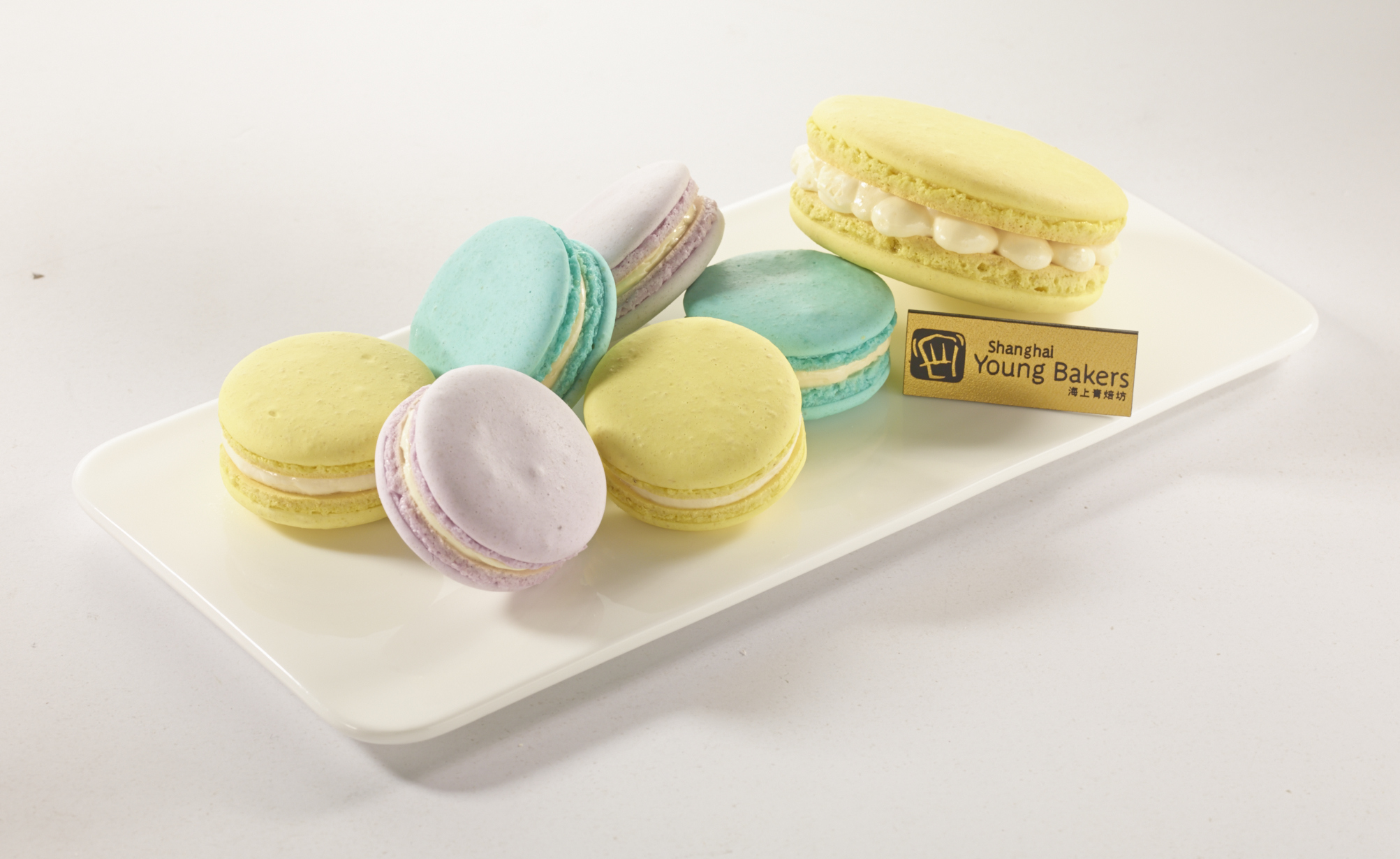 Event Details:
Date & Time: Saturday, April 9th , 10:00- 15:00
Location: Shanghai Young Bakers Baking Center, Shanghai, Putuo District, Suide Road
Price: 500 yuan/ person + 100 yuan/ person for an optional lunch (If over 10 people register, lunch is on us!)
课程信息:
日期与时间:4月9日, 10:00- 15:00
地点:海上青焙坊的烘焙中心,上海市,普陀区,绥德路
价格:500元/位+ 100元/位午餐(若有10名以上的报名者,我们将免费提供午餐)
To register:
Please contact our social enterprise coordinator Mei at baking@shanghaiyoungbakers.com or 136 8168 7194
报名方式:
联系社会企业协调负责人:美恩
baking@shanghaiyoungbakers.com 或136 8168 7194