When the Stars Align: Young Baker Finds Her Guiding Star
当群星成列:年轻烘焙师寻得启明星
"I've never considered myself to be a creative person," says Fu Shuangxing. When asked about her recent bakery creations, however, her answer belies her modest, sometimes even self-deprecating, humility: baguettes, croissants, olive bread, and various artisanal breads.
"我从来不认为自己是一个有创意的人,"当被问及她最新的烘焙制品时,福双星说道,然而,她的回答证明了她的谦虚,有时候更是自我贬低和谦卑:法式长棍面包、羊角包、橄榄面包和各式各样的艺术面包。
Hailing from Jinan, Shandong Province, the twenty-year-old, whose surname literally means "two stars," has always been enamoured with baking. "Baking has been my interest for as long as I can remember," says Shuangxing, "but I had always thought of it as more of a passion than a potential profession." That mindset quickly changed when she told an employee at the orphanage about her passion, who encouraged her to apply for the Shanghai Young Bakers, a non-profit organisation that sponsors and trains around thirty-two disadvantaged Chinese youths each year to become professional bakers.
这位20岁,来自山东济南名为双星的姑娘一直都很喜欢烘焙。"烘焙一直以来都是我的兴趣,"双星说道,"但以前我一直认为烘焙只是一个爱好而不是可以赖以谋生的工具。"在她告诉一名孤儿院员工她对烘焙的热情后,这种观念模式很快被改变了,这名员工鼓励她报名参加海上青焙坊的项目。海上青焙坊是一个非营利组织,每年他们都会为32名左右的弱势青年提供资助与培训,让他们成为专业的烘焙师。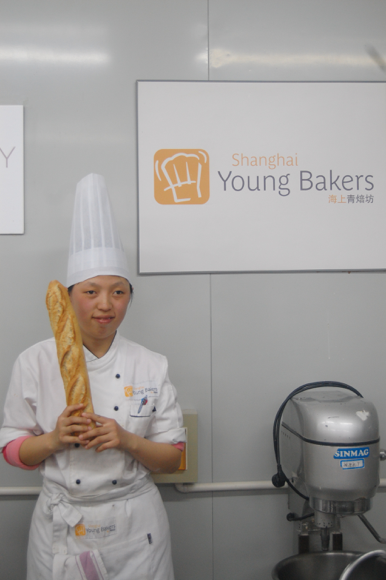 Today, Shuangxing works the night shift at the Sofitel Hyland, a five-star hotel operated by the Accor Hotels Group on one of Shanghai's most iconic streets, Nanjing East Road. Every night, she is responsible for making the next morning's breakfast trifecta: baguettes, croissants, and danishes. "The workload has been challenging," Fu admits, "but I am getting better at managing my time and responsibilities."
如今,双星在上海最具标志性的街道,南京东路步行街上的雅高集团下属索菲特海伦宾馆夜班工作。每一晚她负责烘焙隔天的早餐三重奏:法式长棍、牛角面包和丹麦面包。"工作量确实挺大,"双星说道,"但是我现在能更好的安排我的时间和责任。"  
When she first joined the SYB programme in August 2015, Shuangxing did not have that quiet confidence. She recalls feeling flabbergasted on one occasion at the baking centre, when the instructor asked the students to make a bread of their own design. "I didn't think I could make something original on my own," she whispers, "as if making and kneading the dough weren't difficult enough!"
2015年8月,当她第一次加入海上青焙坊的项目时,双星并没有如今这般自信。她回忆说有一次在烘焙中心老师要求学生自己设计面包,当时的她一脸茫然。"我当时不认为自己能做出属于自己的原创面包,"她小声说道,"制作面团和揉面就已经挺难了!"
However, her insatiable hunger to learn and her love of camaraderie have enabled Fu to overcome her lack of confidence and become a multi-tasking baker. She credits her classmates and teachers at SYB, as well as her internship mentors at the Sofitel Hyland, for her growth: "I have many fond and precious memories of my time with the programme, learning from my mentor chefs and from my classmates." Those memories led her to work at the Sofitel Hyland hotel, where she could develop her baking career with the franchise that has taught her so much.
然而,对学习的渴望和对同伴的爱让双星成功地克服了自己的不自信,并成功让自己成为一名能同时进行多个任务的烘焙师。她将自己的成长归功于她在海上青焙坊的同学和老师,以及她在索菲特海仑宾馆的导师:"向老师和同学们学习是我在这个项目中得到的珍贵的回忆。"那些记忆引导她在索菲特海伦宾馆工作,并在这家教会了她许多技能的酒店继续发展她的烘焙事业。      
Fu's quiet humility, which seems like a misfit in a society that worships boastful confidence, has enabled her to become a baker of her own destiny. No matter where she is – classroom, baking centre, hotel – the soft-spoken girl from Jinan listens, observes, learns. No matter what the task is – kneading dough, baking bread, mastering new breads – she practises, practises, masters it. This resilience and conviction form the core of her outlook in life: practise makes perfect. And for her, that means dedicating a lot of time to learning, making mistakes, and trying again.
福双星的安静谦逊仿佛与这个崇拜极度自信的世界格格不入,然而这促使她成为一名掌握自己命运的烘培师。无论在教室、烘焙中心亦或是在酒店,这位从济南来的温柔姑娘都在聆听、观察和学习。无论任务是揉面团、烘面包或是学习新面包做法,她都反复练习并最终掌握那些技能。这股韧性和信念形成了她人生的原则:熟能生巧。对她来说那意味着将多数时间献给学习、犯错然后再次尝试。
It may come as a surprise then to discover that Shuangxing was not always the diligent, independent person that she is today. Prior to enrolling in the SYB programme, she depended on the orphanage's sponsors for her daily needs; now she can support herself through her full-time job. "That has been the biggest improvement in my life," Fu explains, "being able to take care of myself and having the ability to tackle problems on my own."
您可能会惊讶的发现双星并不是一直以来都像现在这样的独立和勤奋。在加入海上青焙坊的课程前她还每天依赖着孤儿院的救济;如今她能用工作中养活自己。"这是我人生中最大的进步。"双星解释道,"我能照顾好自己,同时也拥有解决问题的能力。"      
But that may not even be the most momentous transformation that Fu has experienced, despite its significance. "It was only after joining SYB that I discovered that my passion was my dream – that I wanted to be a baker." This revelation has been nothing short of life-changing, instilling a previously-lost teenager with a sense of purpose. "Before joining SYB, I had no dreams – I didn't know what to do every day," Shuangxing laments, "but now I have a dream and the capabilities to realise it." As befitting of her patient personality, Fu plans to open an online bakery in ten years' time, when she would have accumulated enough knowledge and experience to open a shop that she can be proud of.
尽管这个改变有着重大的意义,然而福双星经历了更重要的变革。"加入海上青焙坊后,我发现我的爱好其实也是我的梦想 — 那就是我要成为一名烘焙师。"这个发现改变了福双星的人生,让她从一个迷茫的青年成为了一名富有使命感的烘焙师。"加入海上青焙坊前我没有梦想,每天不知道该做些什么,"双星哀叹道,"但是现在的我有了梦想,也有了实现梦想的能力。"犹如她耐心的性格,福双星打算在10年后开一家网上烘焙店。在累积了足够的经验和知识后,她相信能开一家让自己骄傲的店。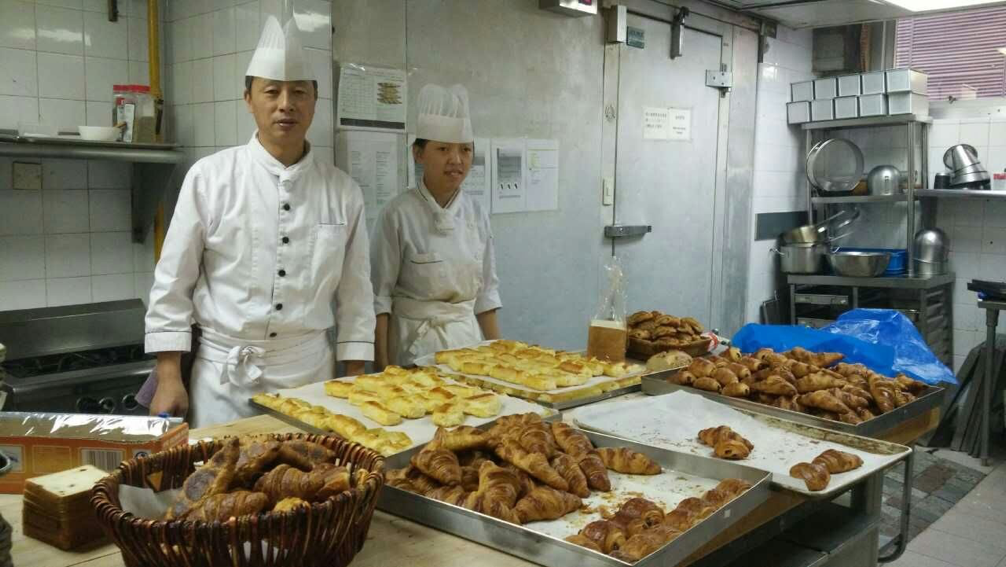 When Fu joined the Shanghai Young Bakers in August 2015, little did she know that her childhood curiosity would become her reality. When asked if her general outlook on life has changed since finishing the programme, she replied: "work hard, control what you can, and just go with the flow with everything else." Given how the stars have aligned for Shuangxing over the past few years, one would be hard-pressed to disagree. But of course, it is not the alignment of celestial bodies in the sky which determines human destiny; it is that Shuangxing has found her guiding star in the sky – her dream of opening her own bakery.
当福双星在2015年8月加入海上青焙坊时,她没有意识到她童年的好奇心将成为现实。当被问及海上青焙坊的课程结束后她的人生观是否已经改变时,她回答说:"努力工作,控制你能控制的,其他的事物则顺其自然。"从双星过去几年的人生道路来看,你很难不同意她的说法。当然了,决定人类命运的不会是天上星星;而双星找到了指引她的启明星 — 那就是开一家面包店的梦想。
Written by Lo-Ching Chow
撰写:周乐芹