From disadvantaged Chinese youth to outstanding Young Bakers: the 8th batch students graduated with flying colours
从弱势青年到优秀烘焙师, 海上青焙坊第八届学生走向缤纷人生
The Graduation Ceremony took place at naked Hub, a creative co-working space near West Nanjing Road. SYB's sponsors, partners, as well as representatives from the F&B industry, chefs from five-star hotels and many other SYB supporters gathered at this place, dressed in bright colours to celebrate the success of our 29 students. 
毕业典礼在裸心社举行,这是位于南京西路附近的创意共创办公空间。海上青焙坊的赞助商,合作伙伴,来自餐饮行业的代表们,五星酒店的主厨和其他SYB支持者们在这里团聚,穿着亮色服装,共同庆祝这一届29位学生们成功毕业。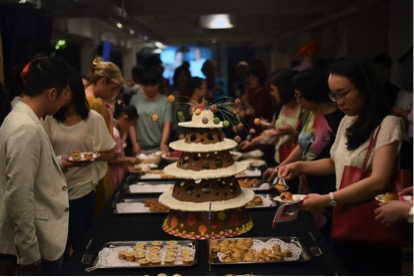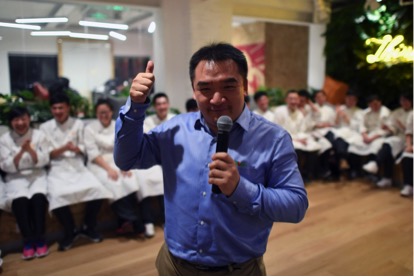 During the ceremony, students came onstage one by one to receive the diplomas handed by Ms. Helene Hovasse, Head of Agro-business Dpt, Business France, and Mr. Yan Zhijun, Vice-Director of the Shanghai Charity Education & Traning Center. "I was perplexed about my future last year when I graduated from high school… Later on, through the introduction of Madaifu and after an interview of SYB, I was selected to be a part of this program." Liu, one of the best graduates of the 8th batch shared his story. Just like him, coming from all over China, students are brought together by the will of being financially independent and their passion for bakery. Ms. Zhu, HRD of W hotel Bund Shanghai, was touched to see their progress: "They shared a lot of their great stories with me… (they are) grateful for how lucky they are".
在毕业典礼中,学生们一个接一个上台,从法国驻华大使馆商务投资处农业、食品部参赞杨海伦女士和上海市慈善教育培训中心副主任严治俊先生手中接过毕业证书。"去年高中毕业的时候,并不知道自己的未来将会怎样的我感觉十分迷茫……后来在马大夫之家机构的介绍下,经过选拔,我正式加入了海上青焙坊的培训项目。"海上青焙坊第八届优秀毕业生之一的刘同学与嘉宾分享他的故事。正如他一样,经济独立的意志和对烘焙的热爱把这些来自全国各地的学生聚集在了一起。"学生们与我分享了许多他们精彩的故事……他们对自己的幸运非常感恩。"上海外滩W酒店的人力资源主管朱女士为他们取得的进步所动容。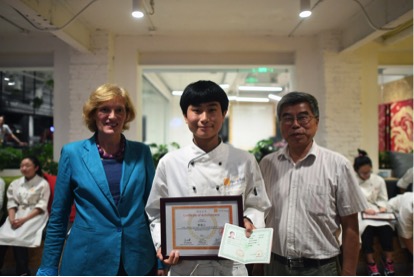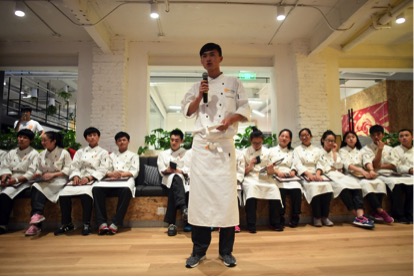 Apart from the touching moments, there was also a lot of fun during the ceremony. "What a well organized event with many engaging activities", said Ms. Lin from SVG China. In addition to the buffet and the bar, served with authentic French finger foods made by SYB and fresh wine kindly offered by French Cellar, a wish tree, a photo booth offered by our long-term in-kind sponsor Chaos Studio, bread tasting with SYB's award-winning trainer Zhang Zhenghai, annual lucky draw, etc. created plenty of beautiful surprises for all the attendees.
除了感动的瞬间,毕业典礼上也充满了欢乐。"这场活动组织得非常好,有许多与来宾互动的环节",来自舜益公益慈善咨询的林女士感叹道。晚会上不仅有SYB制作的正宗法式迷你西点和由红酒商"两瓶"免费提供的美味红酒,还有"心愿树"以及由SYB长期友情伙伴Chaos Studio赞助的照相亭背景板,再加上金牌教练张政海的面包试吃环节和年度幸运抽奖,这一切都为来宾创造无数美妙的惊喜。
Earlier that day, 8 companies, varying from private bakeries to famous bakery chains took part in the Career Fair to meet and interview the 29 skillful and motivated Young Bakers. The fresh graduates are now weighing their options to choose the best starting point for their new career.
当日下午我们还举行了招聘会。8所各具特色的公司,涵盖私人烘焙坊到大型连锁烘焙公司各个领域,参加了招聘会并与29名积极上进、技艺娴熟的海上青焙师进行了面谈。毕业生们现在正反复斟酌,为他们崭新的职场道路选择最合适的起点。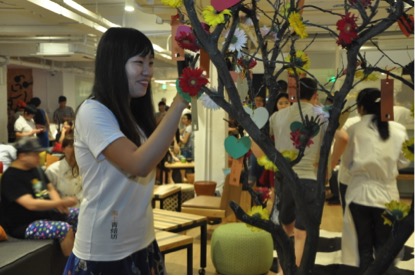 On behalf of the Young Bakers and SYB team, we would like to thank you all for making this evening a great success and for your all-time support! In the 8th year of this program, we hope to perpetuate our service to help more and more impoverished Chinese youths lead an independent and happy life.
我们谨代表海上青焙坊的学员们和运营团队,感谢莅临晚会的各位来宾对我们长期的慷慨支持,也正是由于你们,晚会才能取得巨大的成功。如今,海上青焙坊项目已走过它的第八个年头,愿我们能继续帮助更多的中国贫困少年,使他们他们过上独立幸福的生活。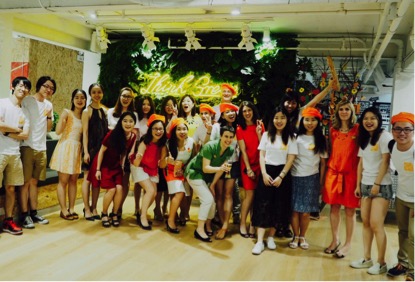 Mia LV, Projects Coordinator
吕珮琳, 项目