Taste gratitude in SYB's bakers basket
小编打探之三:上海最有情意的面包甜点盒
If you recall, our editor discovered last week the enormous appetite of the two ovens in the SYB baking center. The image of those ingredients consumed in a year, namely, more than 4 tons of flour, 1.5 tons of eggs, 1 ton of butter, etc. has left too much an impression in her mind. When these ingredients are transformed into baked products, it means that every week about 630 pieces of bread or 570 pieces of desserts of various sizes are baked in the ovens. What will happen to these products? Our hard-working editor will get you an answer. 
话说上周小编打探出了海上青焙坊烘焙中心里的"大胃王",一年要用掉4吨多面粉、1.5吨鸡蛋、1吨黄油的画面深深印在了小编的脑海里。这么多原材料化身面包和甜点的成品,每周就有将近630个或长或短的面包、570个或圆或方的甜点要出炉。那么,这些面包和甜点都去了哪里了呢?今天,小编就来揭秘。
Shanghai Young Bakers provides its training, free of charge, to the students replying on sponsorships and donations from enterprises and individuals. Since 2011 SYB has been running some commercial activities, the proceeds of which all go to the charity program as a supplement to the sponsorships. These commercial activities include teambuilding classes targeted at enterprises and organizations, and public classes for baking amateurs. Of course, SYB also accepts ordering and provides catering services.
海上青焙坊是无偿向学员提供烘焙培训的,所需经费大多来自一些企业和个人的赞助捐款。从2011年起,海上青焙坊开始开展一些商业活动,全部收入都投进学生的培训项目里,作为企业赞助的补充,帮助这个公益培训项目可以持久地开展下去。海上青焙坊目前开展的商业活动有针对企业和组织的团队烘焙课,也有面向烘焙爱好者的公开课,当然,也接受烘焙产品的订购和配送。
However, if you are like our editor who prefers eating to baking, here comes just the right news for you: by simply clicking on your cell phone, you can order from the SYB Wechat shop and receive a box of bread or desserts every Thursday. Now our editor feels much happier.
如果你和我们的小编一样,人(比较)懒嘴(比较)馋,更希望点点手机就有面包送上门的话,好消息来了:到海上青焙坊的微店上下单,每周四都会有面包或者甜点篮子送上门来,是不是觉得幸福指数瞬间飙升了呢?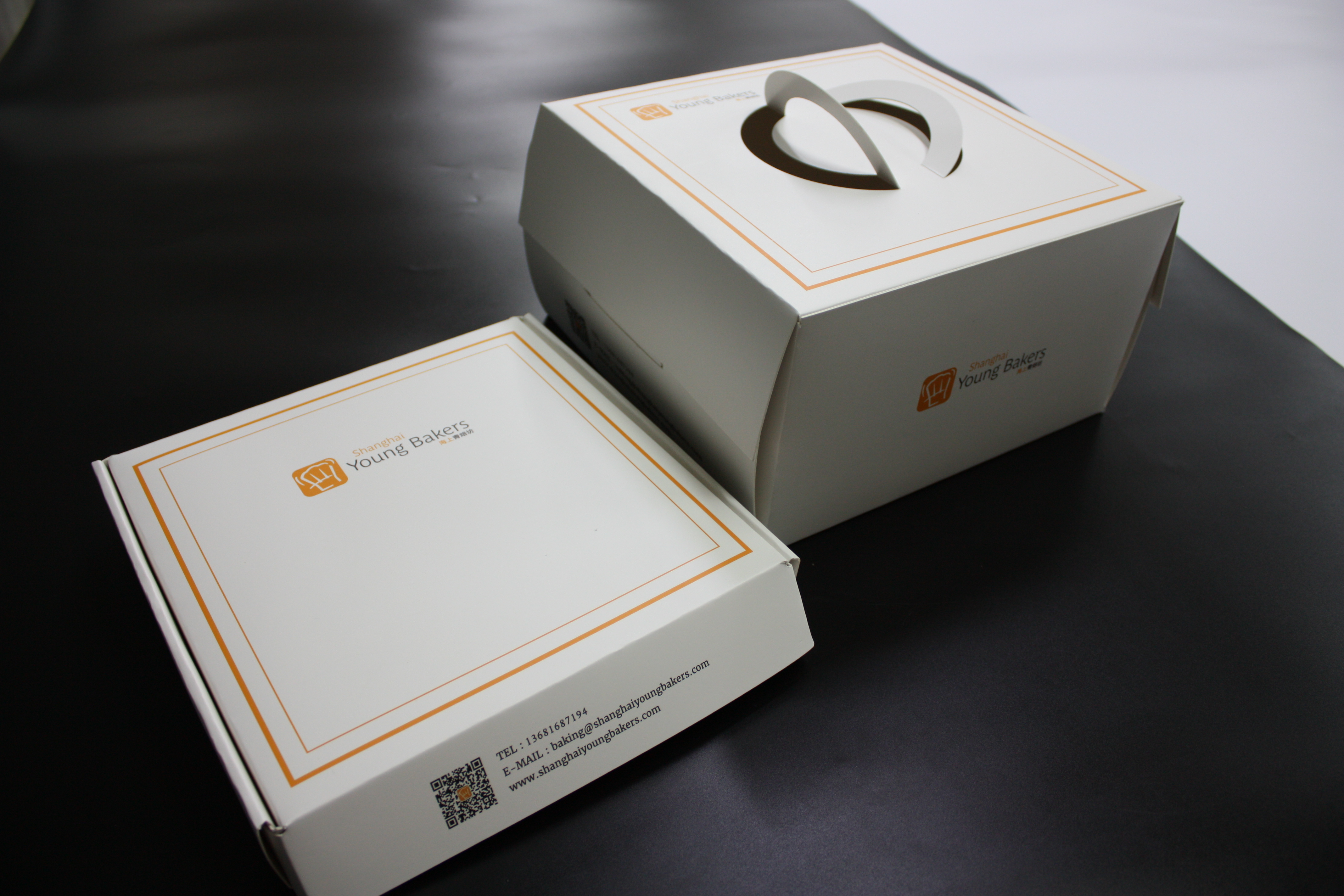 The SYB Wechat shop sells students' products which change every two weeks and delivery is done every Thursday. There are two sizes to choose from, with price varying from RMB 160 to 320. During the weeks when students bake bread, you can get either a smaller box containing 10 pieces of bread or a larger box of 20 pieces. In the weeks when our students make pastry, you can get either a smaller box of 10 portions of desserts or a larger box of 20 portions. A family of three can finish a smaller box in three meals, which is the right amount of time for best consumption. A larger box is more suitable for a friends' party, afternoon tea break or celebrating a colleague's birthday in a company. A larger box of bread could look like this:
微店上销售的是海上青焙坊的学员每周烘焙的作品,每两周品种会变化,每周四发货。有两种规格可以选择:10人份的或者20人份的,费用从160元到320元不等。在学生烤面包的那两周里,微店里可以买到装有10个面包的小盒子和装有20个面包的大盒子。在学生做甜点的那两周里,我们有装有10人份甜品蛋糕的小盒子和装有20人份的大盒子。10人份的面包或者甜点对于一个三口之家来说,大概可以吃三顿,可以保证在保质期内吃完。20人份的面包或者甜点更适合朋友聚会、公司下午茶、或者庆祝同事生日,人多欢乐多。一个20份的面包盒子大概有这么多: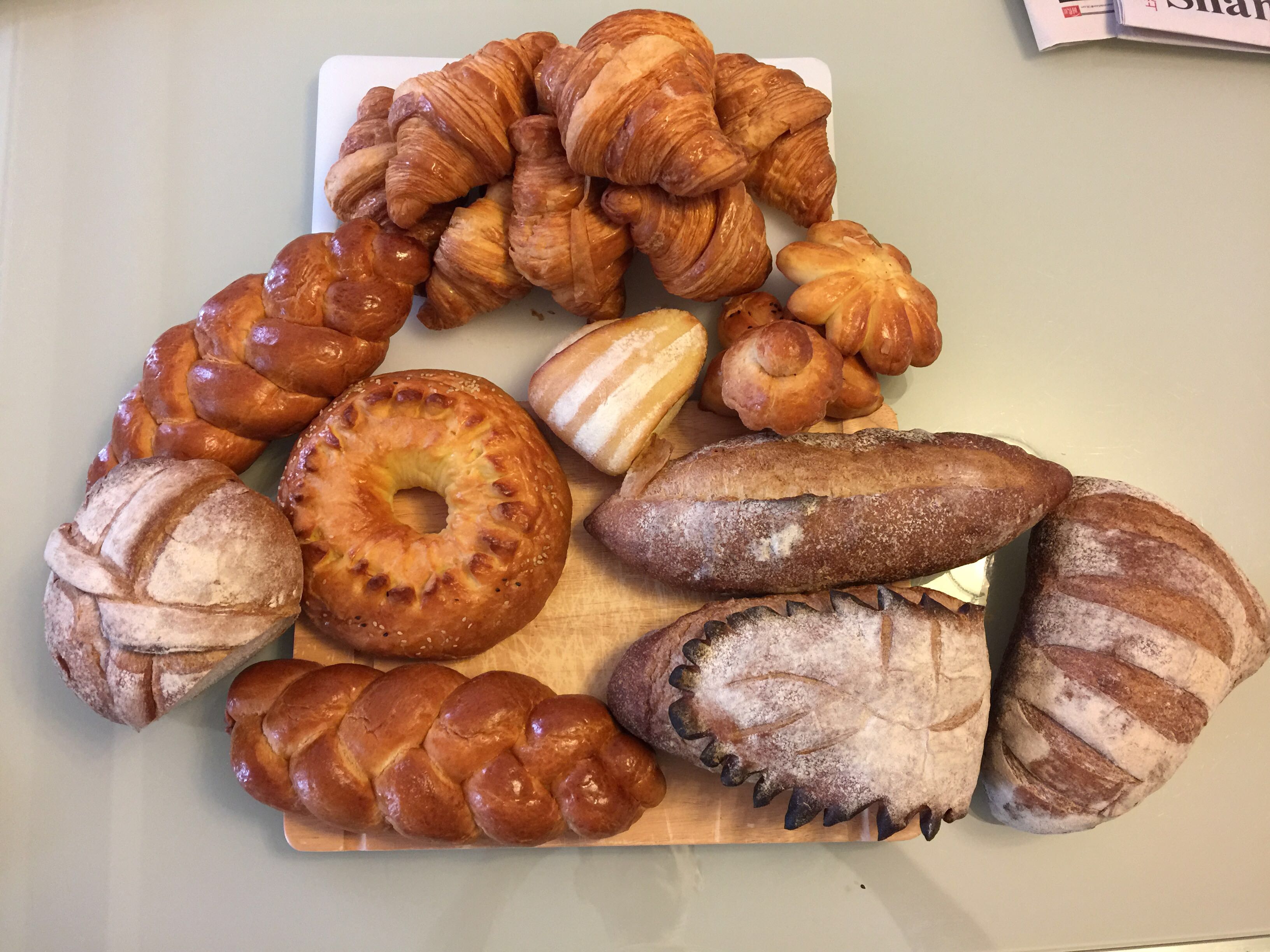 SYB bakers' boxes are probably the most special in Shanghai because they have a unique ingredient, which is love. Our students have an average age of 18 and they all come from poverty stricken families. Some of them had to leave school early and some had to join the forces of migrant workers at a young age. They are full of gratitude of having had such an opportunity to learn French bakery and pastry in Shanghai and work in five-star hotels or bakery shops after graduation. With their salary, they can be independent and also help their families. Please take a look at what our students have to say.
海上青焙坊的面包和甜品盒子大概是上海最有情意的了,因为在这些面包和甜品的配方里,有一样特殊配料,大概是海上青焙坊独有的,它就是 — 爱。我们的学员平均年龄18岁,都来自家境贫寒的家庭,他(她)们有的被迫早早辍学,有的离开家乡,过早踏上打工之路。能够有这样一个机会,来到上海,免费学习正宗的法式烘焙,一年之后可以在五星级酒店或者高档面包房找到烘焙师的工作,工资不仅可以养活自己,还可以帮到家里,我们的学员心里充满了感激之情。来看看他们亲手写下的话吧: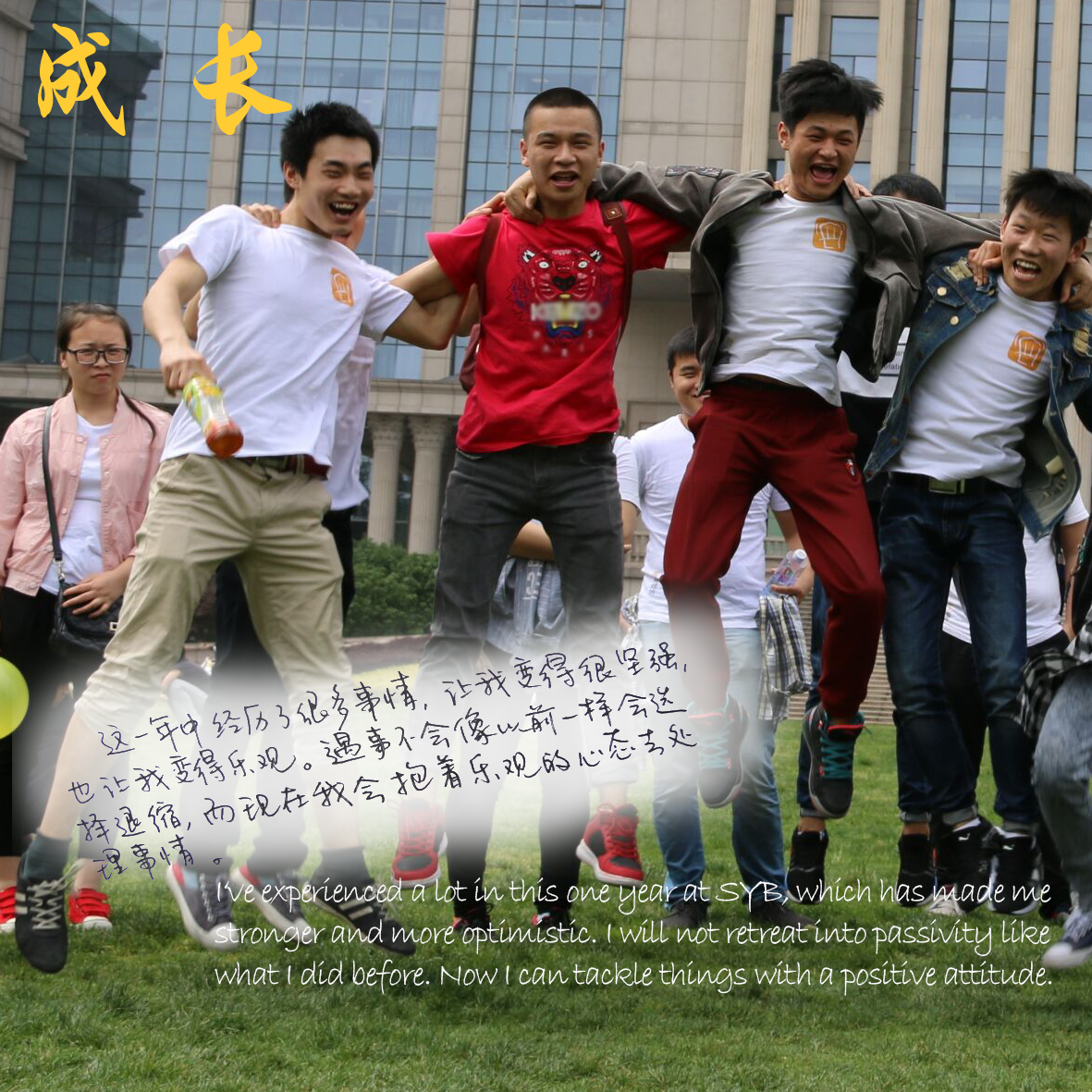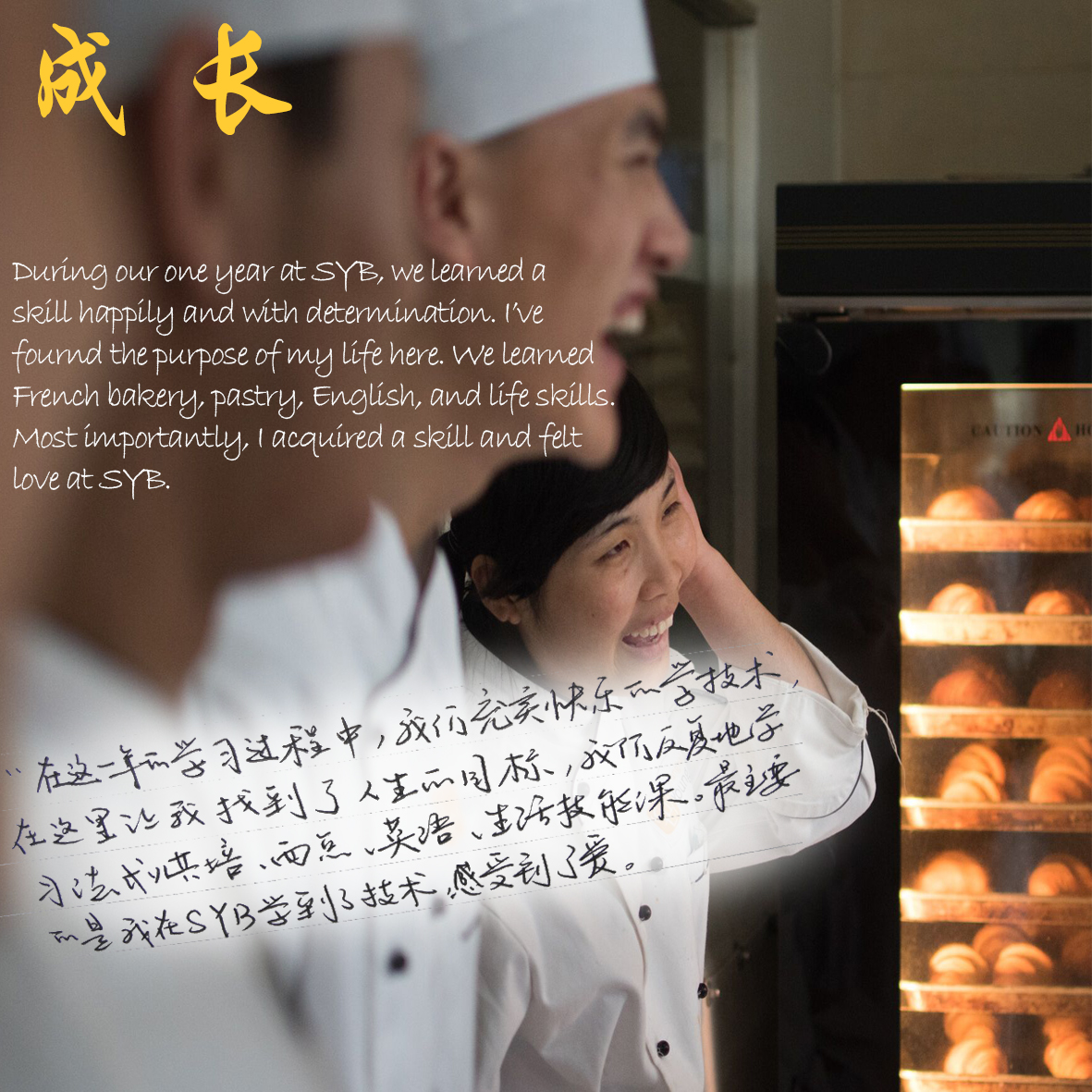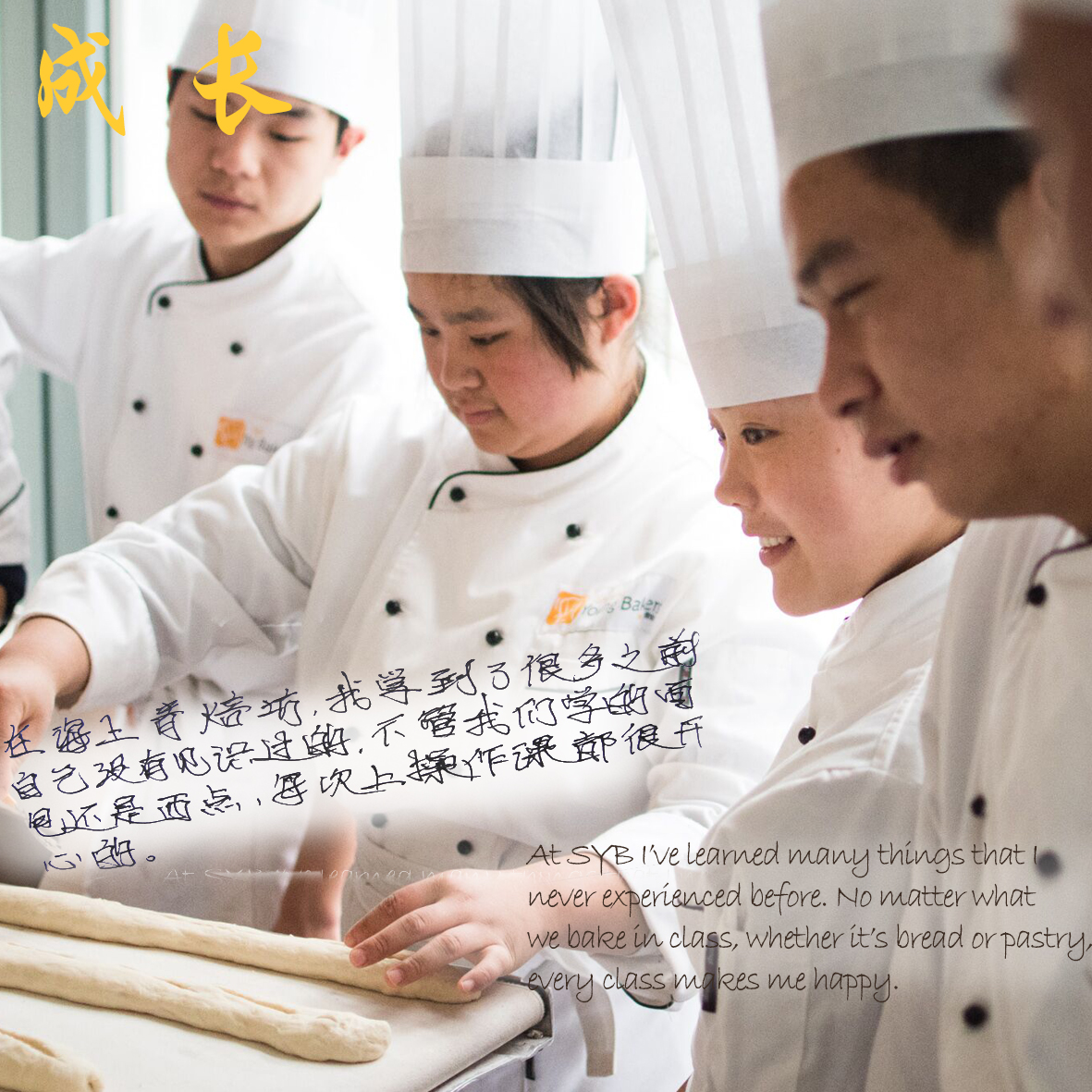 The love replenishing the hearts of our students can also be tasted in the bread and desserts they bake. Now they would like to share their gratitude with more people so that they can also witness their growth and maturity. Come and place an order at the SYB Wechat shop. You will be contributing to our charity program and helping more underprivileged teenagers change their lives. Please access our Wechat shop from the QR code below. All proceeds from the Wechat shop go to our charity program.
海上青焙坊学员心中感受到的爱传递到他们的指尖,融进了他们烤出的面包和甜点里。他(她)们希望和你分享这份情意,希望更多人看到他(她)们的成长,分享他(她)们进步的喜悦。来吧,在海上青焙坊的微店上下单,帮助更多的贫困青少年学习烘焙技术,改变命运,你的帮助,学员们感受在心里,甜蜜留在你的嘴里。