SYB's first Professional Training completed with success!
海上青焙坊首期专业法式烘焙培训成功举办!
The last SYB professional training, taught by our master baker Zhang Zhenghai, including Level 1 (November 2015) and Level 2 (March 2016), has completed with success. All participants left the SYB training center with big smile, more essential bakery knowledge and skills, and of course, bags of tasty bakery products they made or even let's say created, since the Level 2 students were able to innovate their own recipe under the guidance of the experienced trainer.
由烘焙大师张政海执教的最新一届SYB专业法式烘焙培训包括初级班(2015年11月)和提高班(2016年3月)成功落下帷幕。所有的参与者都带着大大的笑容,丰富的烘焙核心知识和技能,当然还有大袋的自己动手烘焙的面包离开了烘焙中心,其中不乏有提高班学员在我们专业老师指导下自行研发创造的全新配方。 
In April and May, a brand-new session of professional training is coming, with carefully designed program adapted to the different levels of experience (Level 1 and Level 2). If you are a bakery enthusiast, this new session will be the best choice to enhance your skill and master French traditional bakery!
在四月五月,全新一期的专业法式烘焙培训将卷土重来!有了更多了组织课程经验,更加精心设计的适合于不同级别的课程内容(初级班和提高班),如果你是一个烘焙爱好者,这个全新的项目是你提高专业技能,掌握法式烘焙的不二选择!
Let's review this amazing journey to the secret of French bakery and see the great improvement our participants have made all the way!
让我们回顾这个通往法式烘焙秘诀的旅程,看看我们的学员们一路的成长!
Level 1
Students listened attentively to the theory class, learnt the techniques directly from the Chef and practiced on their own dough. They enjoyed producing baguette, country bread, croissant, brioche, Italian breads, and whole wheat bread…tasting their work and exchanging views with other participants to make a progress. Let's take a look at the results of their hard work!
初级班
学员们认真学习理论知识,向张老师直接学习烘焙技能,并且在自己的面团上实践。他们享受烘焙自己的法棍、乡村面包、羊角面包、布里欧面包、意大利面包和全麦面包…互相品尝对方的作品,并且共同探讨共同进步。让我们来看看他们的成品吧!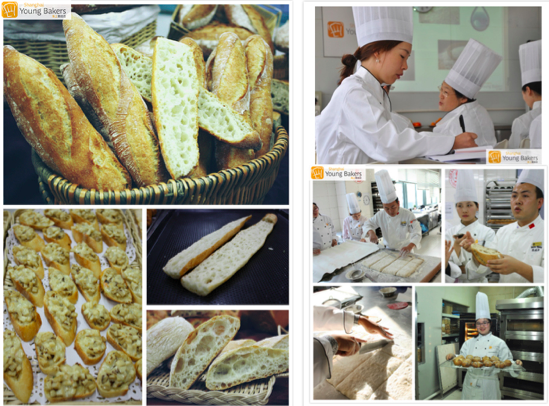 Level 2
During the 4-day intensive classes of Level 2, all participants with strong and solid baking skills combined their theory with practice. They increased professionalism in baking and diversified their skills by learning sourdough breads, several kinds of Danishes, special breads (cereals bread, special dry fruit bread, rye bread), sweetbreads (banana bread, muffin, madeleine), and traditional French snacks (sandwiches, tartines). Participants even cultivated their dough and developed their own recipe under guidance of the experienced teacher.
提高班
在提高班四天高强度的学习中,有着扎实烘焙基础的学员们将理论与实际操作结合。他们的烘焙更加专业,技能更加丰富,学习了酸面种的面包,多种丹麦酥,特殊面包(谷物面包,干果面包,黑麦面包),甜面包(香蕉面包,麦芬,玛德琳),还有法式传统小吃(三明治,挞类)。学员们甚至培育了自己的面种,在老师指导下开发了专属自己的独家配方。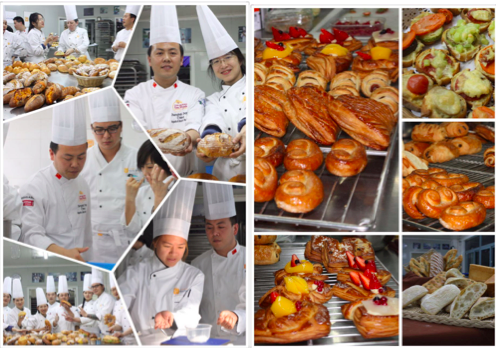 Every participant had his certificate on the graduation day and they all deemed this training as a rewarding and fruitful journey. One said "The SYB training is the best training I ever got for its rich content and professionalism of the teacher" since she had been attending various baking class all around China.
每个参与者都在毕业那天收获了证书,他们一致认为这个培训是一次收获满满的旅程。有一个参加了中国许多烘焙班的学员说:"海上青焙坊的培训是我参加过最好的烘焙培训,因为内容真的充实丰富多样,老师也非常专业。"

If you want to join SYB Professional French Bakery Training, don't miss the upcoming new session in this April and May!
如果你想要参加海上青焙坊的专业法式烘焙培训,千万不要错过这个四月五月的新一轮课程!
Course fee for this 4-full-day course 
Level 1 – 2016/4/14 to 2016/4/17: 5200 RMB for 4 full days.
Level 2 – 2016/5/5 to 2016/05/8: 5500 RMB for 4 full days. 
课程价格:
初级课程——2016.4.14-2016.4.17:5200rmb,4天
提高课程——2016.5.5-2016.5.8:5500rmb,4天
REGISTRATION & INQUIRIES:
You can register on our Huodongxing page or contact our social enterprise coordinator below:
Mei En: baking@shanghaiyoungbakers.com or 136 8168 7194
报名与咨询方式:
可以通过我们活动行主页报名或者联系我们以下的社会企业协调员
美恩:baking@shanghaiyoungbakers.com 或 136 8168 7194