SYB Baking Story-Chapter 4 |Xiao Jinjin & Macarons
海上青焙坊烘焙故事-第四章|肖金金和马卡龙配方
Let's step into the sweet world of macarons with SYB pastry chef Xiao Jinjin!
In this new chapter of SYB Baking Story, Xiao shares her passion for French pastry, and shows simplified steps in making macarons.
和海上青焙坊(SYB)的西点老师肖金金一起步入马卡龙的甜蜜世界吧!
在本期的烘焙故事系列视频中,肖金金将会分享她对法式西点的热爱,并且演示马卡龙的简易制作过程。
Brilliant first batch student, Xiao JinJin became a professional French pastry teacher in SYB, after she furthered her study in France. This year she is embracing a new role as the Technical Manager of commercial activities in SYB Social Enterprise. In this video, she explains how these activities are important to finance part of SYB charity program.
Check out the video to discover the making of chocolate flavor macarons, this traditional intricate French pastry that will sure tease your taste buds!
肖金金是SYB第一届的优秀毕业生,她赴法精进传统法式西点技能回国后,成为了SYB的西点老师。今年她也有一个新身份,那就是负责协调商业活动的SYB社会企业技术经理。在这个视频中,她也会会说明这些商业活动对SYB慈善项目的重要性。
快来看看如何制作巧克力口味的马卡龙吧,这精致的传统法式西点不仅养眼,更能挑逗你的味蕾!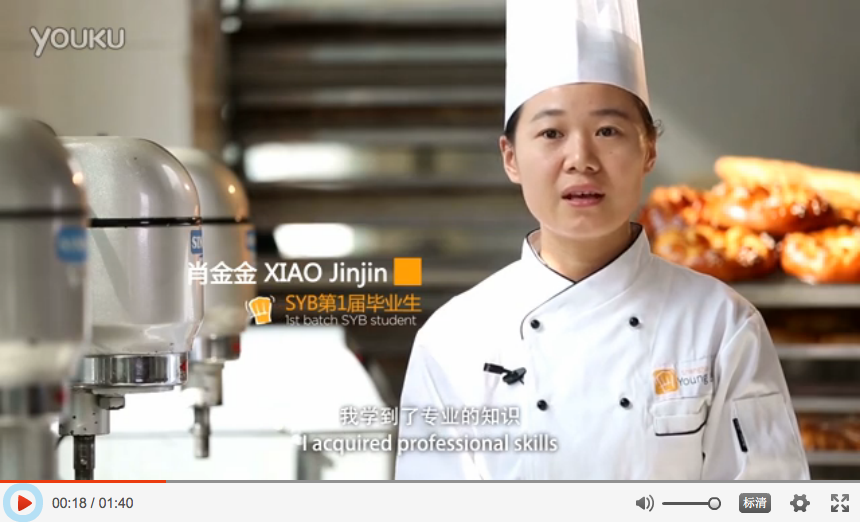 You can learn this recipe in the upcoming public class focusing on Macarons on April 9th in SYB training center! Do not miss this opportunity to meet Xiao Jinjin and make your own colorful Macarons in spring!
你可以在海上青焙坊4月9日的春季马卡龙对外烘焙公开课上学习这个配方!不要错过这个向西点专家肖金金学习的好机会,亲自动手做出专属于你的五彩春季马卡龙!
Stay tuned for the next chapter of SYB Baking Story! Discover more secret recipes and more students' stories!
敬请期待下一章SYB烘焙故事!发现更多配方,了解更多学生的故事!
The video is fully sponsored by CARAT China
本视频由凯络中国公司赞助制作