When business makes a difference – Experience SYB's recipe for social change!
小企业大作为 – 海上青焙坊改变社会的配方
The SYB charity program was officially launched in February 2009 with the arrival of the students who took part in Shanghai Young Bakers' first training session. From the beginning, the program has relied strongly on the sponsors and other foundations to operate, but the Social Enterprise has also become an important contributor to the success of the program. 
In late 2011, SYB had the great idea to use its extraordinary bakery and pastry skills to propose some services to individuals and companies:catering, public baking classes, baking teambuildings, weekly markets. The Social Enterprise was born, to bring more financial independence and sustainability to the charity program.
2009年2月,海上青焙坊公益机构正式成立,并迎来了他的第一批学员。从成立伊始,海上青焙坊在各赞助商和组织的支持下得以稳定的运作,但是于此同时青焙坊的社会企业也为公益项目的成功作出了不可磨灭的贡献。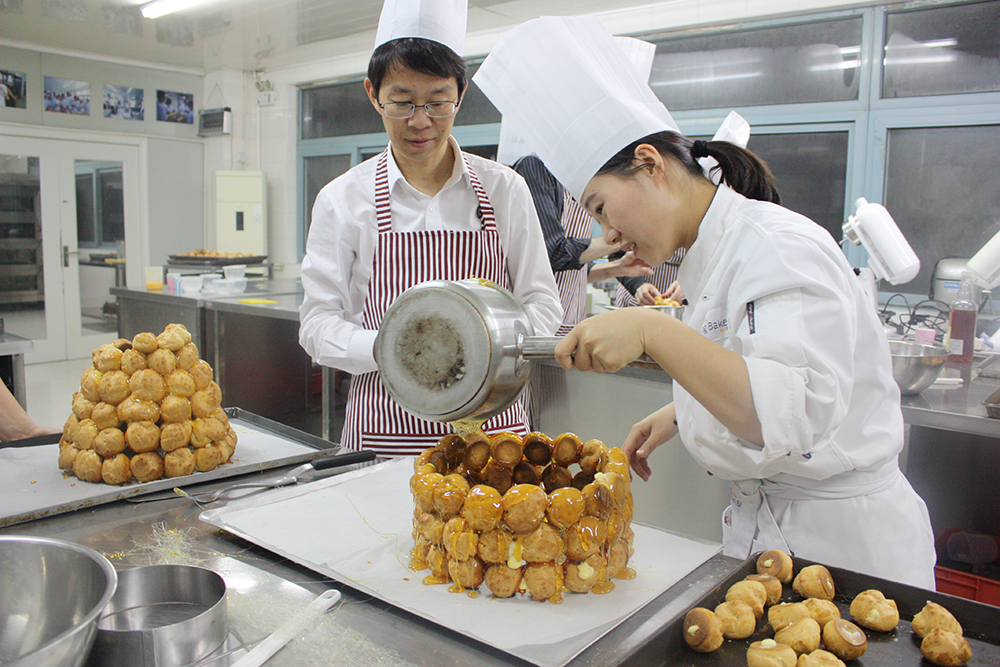 If the name 'Social Enterprise' is sometimes not really obvious for many people, its reality is easy to understand. The Social enterprise represents all the commercial activities developed by SYB to fund part of the program's financial needs. All the profits from these activities are directly and totally dedicated to the training program.
Since 2011, the contribution of the Social Enterprise has grown on a yearly basis, and we are very proud to say that after all the efforts, in 2015 we were able to cover about one third of the program's expenses! 
如果社会企业的含义对一些人来说还很模糊,那么将它带入到现实运营中则更容易理解。社会企业代表海上青焙坊所有旨在为公益项目提供资金支持的商业活动。所有这些收益均被用于补助海上青焙坊学生的培训和他们的学习生活。
自2011年起,海上青焙坊社会企业每一年在资金支持方面的贡献越来越大,在SYB团队的努力之下,我们可以骄傲的说,2015年,社会企业的收益覆盖了公益项目总花费的三分之一。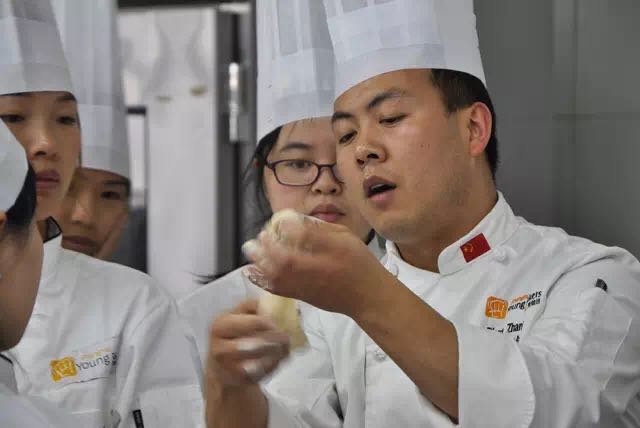 The activities have become more diversified: the catering catalog is now covering a large range of typical French cakes and finger food, anybody can sign up for a Bakers Basket subscription to enjoy the students' products, and the public classes are held regularly twice a month. Services for the professionals of the baking industry have also been developed, in particular the professional training classes, and consultingservices to create or improve bakery recipes.
The Social Enterprise couldn't exist without the support of all our faithful customers. They include individuals, companies or institutions, such as Ubisoft, who every year entrust us for their kings cake event, and KPMG, who organizes office tasting and sales of our students products for their employees. We have recently held fun and meaningful teambuilding activities with Sopexa and Arobase, whose staff demonstrated impressive creativity during their cake decoration contest. 
今天,社会企业提供了更多种类的活动:餐饮服务目录中有大量美味的经典法式面包,甜点,饼干以供选择,此外任何人都可以订购我们的惊喜西点篮来享用由学员制作的新鲜产品,同样,我们每个月举办两次对外烘焙课程。为专业烘焙人士提供的服务也得到了发展,特别是为希望在烘培领域发展人士提供的专业法式烘培培训,我们同时提供改善和创造新烘焙配方的咨询。
是在我们忠实顾客的支持下,社会企业有了现在的发展,我们的顾客不仅是个人,也有公司和各种机构,例如,育碧每年将国王饼活动的餐饮承办委托给我们,毕马威组织办公室品尝售卖我们学员的烘焙产品。我们不久前还和法国食品协会和Arobase一起进行了有趣愉快的团队建设活动,公司员工们在蛋糕装饰比赛中都表现出了令人惊异的创造力。

For corporations, it is often a great way to learn more about the charity program, and many later decide to engage in  a more long-term cooperation. 
The main challenge for SYB is to keep developing the commercial activities, and to provide the best products and service quality, all without disturbing the students training, which of course remains our priority. And that is not always easy! In 2015 we decided to reorganize our team so that one of our pastry chefs, Xiao Jinjin, could be fully dedicated to organizing and coordinating all the implementation of the activities.
对于不少合作者来说,正是这样一个更深入了解海上青焙坊公益项目的机会,使他们确立了日后与SYB建立长期合作伙伴关系的想法。
海上青焙坊目前最大的挑战是如何持续发展这些商业活动,并在提供最好的服务和最高质量的产品的同时,不影响学员日常培训的进行,因为学生们的烘焙培训对SYB来说一直是工作的第一位。但是达到二者的平衡发展并没有想象中的那么容易。于是2015年,我们决定重组队伍,西点培训师肖金金老师目前负责所有商业活动相关的的组织与协调。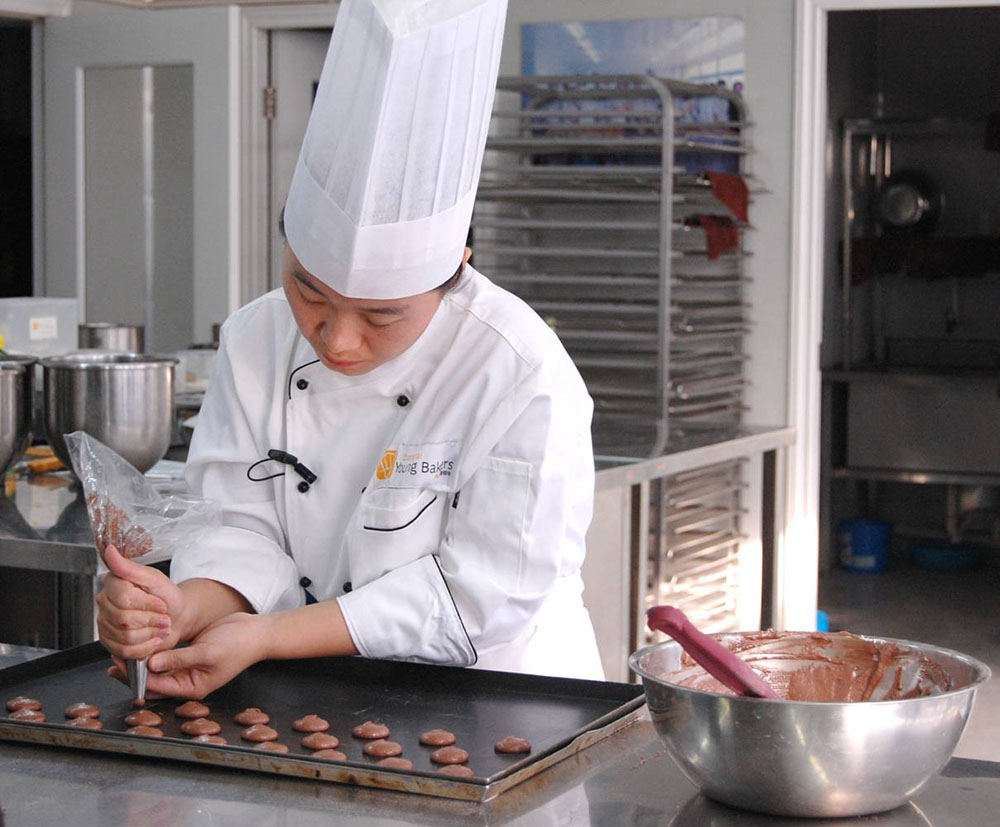 Xiao Jinjin originally joined SYB in 2009 as part of its 1st batch. She was selected to further continue her studies in France, and started to teach SYB students in 2011 as a professional pastry chef after graduating from EFBPA (Ecole Francaise de Boulangerie et Patisserie d'Aurillac). In her new role of Technical Manager, she now organizes the production of catering orders, leads corporate teambuilding workshops and manages monthly public classes in the training centre. A new set of complex and demanding responsibilities which she has been accomplishing with dedication and professionalism!
Our ambition is to keep growing the social enterprise in the future. When participating to our teambuildings, tasting our products, learning in our public classes, you contribute to support the program, and to change lives of marginalized Chinese youth. And if you already support SYB through the Social Enterprise, don't
hesitate to spread the word around you!
2009年,肖金金以第一批学员的身份来到了海上青焙坊,由于能力出众,肖金金被选拔赴法国最顶尖的法式烘焙学校:法国奥利亚克烘焙学校进修。2011年获得专业技能合格证书后学成归来,成为海上青焙坊的西点培训老师。目前她作为新的技术主管,负责餐饮服务订购的制作,带领公司团队建设工作坊,组织每月在烘焙中心举行的对外公开课程。但是肖金金凭借着自己专业的工作能力与细致的工作态度,将这一系列复杂的工作要求与随之而来更多的责任处理的游刃有余。
我们决心在未来继续发展与壮大社会企业。无论你是在参与我们的团队建设,还是品尝我们的烘焙产品,或是在我们的对外课程中学习烘焙知识,你都在为海上青焙坊公益项目做着一份贡献,为出身贫困的中国青少年的生活带来一点不同。如果你也希望通过社会企业来支持海上青焙坊,不要犹豫,将SYB告诉给你身边同样想让世界变的更美好的人吧!
Thank you for your support!
Emilie-Noelle, Social Enterprise Manager
罗艾莉,社会企业项目总监