A year ago in January, I became part of the group of volunteers that Stepping Stones carefully trains and recruits to fight education inequality in Shanghai and in many other rural areas by offering English classes to those children that otherwise would have a very limited exposure to a subject that can be so important for their future.

During this year I have been incredibly fortunate to be able to collaborate with some startling volunteers and educators and to be a part of the incredibly caring "family" of Shanghai Young Bakers.
The knowledgeable, well-informed leadership of Stepping Stones was always there to help us and direct us anytime we faced a problem; we know we can always count on them.
Shanghai Young Bakers is also a charity program that provides free training in French bakery to marginalized Chinese youth, empowering them to find industry related jobs in this "hungry" fast moving country.
Along with bakery, these youths are also exposed to English and this is where Stepping Stones comes in and helps with their volunteers.  It is a wonderful joint-venture.
I am grateful for the time, trust and bond that I built with my fellow volunteers,  Zhu laoshi, the Student Life Management Manager, Qin Pingping the Student Life Management Assistant and last but not least my dear 32 students.
These students are my heroes as I have never seen so many well-mannered, committed and hardworking learners. I am aware that for some of these students, English did not come easy, yet I never had the feeling that they were giving up on us nor on themselves. I know they worked and studied very hard well into the wee hours of nights. Their commitment can be shown on their tests but also when they willingly try to speak English with us. All I can say is how thankful  I am for allowing me to be part of your educational journey. SYB is an incredible program and these 32 students will always hold a piece of my heart.
Congratulations to the graduating class of 2018, I wish everyone moving on to your next chapter of your life a safe and happy journey. May the many achievements and the many great memories you have made as a part of the Shanghai Young Bakers family be forever with you.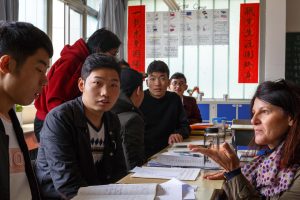 Laura Merlo
Stepping Stones English Teacher