The Young Bakers and SC Johnson team exchange their knowledge
海上青焙坊学员与庄臣公司团队知识交流
In March and early July, the Young Bakers received the visit of a special team: David and his colleagues from the R&D department of SC Johnson, the innovative cleaning products company.
在三月及六月初,海上青焙坊学员们迎接了一个特殊团队的造访:来自一所创新清洁产品公司,庄臣公司研发部门的David和他的同事们。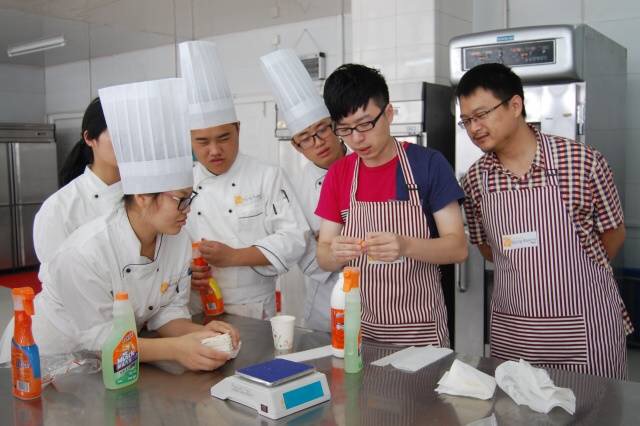 Organized by Judy, the two activities took place at the SYB baking center and were a great moment of sharing for both the volunteers and the students. The morning started with an introduction of the SC Johnson team and a very serious topic "what exactly is dirt?". After giving a few examples, David, Associate Manager Chemistry, explained about the different products that his company has developed such as Mr Muscle, 84, etc, their respective use and purpose. Almost all the Young Bakers had actually used their products, whether at home or at the SYB baking center, and David insisted on the importance to read and respect the safety instructions at the back of the product. After asking a few questions to the students to test their understanding, it was time for the volunteers to change role, and be taught by the Young Bakers the skill they had been learning for a year: baking. After learning how to bake cookies with teacher Zhang Shuai in March, the volunteers learnt the popular cupcakes in July. Teacher Jin started first demonstrated how to make cupcake dough from scratch, following the recipe which can be easily replicated at home as everything is hand made.  Then the students took over her role and slowly guided the volunteers, step by step, looking for ways to explain and useful advice to give. For the students it was a first time experience teaching someone else and a great exercise to test their patience, ability to communicate and boost their confidence!
在Judy的安排下,两场活动都在海上青焙坊的烘焙中心举行,两次分享与交流让志愿者们及学员们都收获匪浅。活动从庄臣公司的自我介绍开始,接着引入了一个非常重要的问题"到底什么是灰尘?",在举了一些例子之后,David,研发部门经理,向学员们介绍了一些由他们公司研发的产品,比如威猛先生,84消毒液等等,并介绍了它们各自的用途。几乎所有海上青培坊的学员都使用过他们的产品,不论是在家里还是在他们的烘焙中心,David再三强调了阅读产品背后安全说明的重要性。在David问了学员们一些问题来测试他们之后,便到了志愿者们交换身份的时间,由海上青焙坊的学员们向志愿者们传授他们学习了一年的成果:烘焙。在3月由张帅老师教授了如何制作曲奇之后,志愿者们在6月学习了如何制作纸杯蛋糕。金老师先示范了如何从零开始制作纸杯蛋糕的面团,以及传授了在家也可以轻而易举制作的食谱。接着学员便接管了她的角色,一步一步慢慢地指导志愿者们,并给他们提供一些有用的建议。对学员们而言,这是他们第一次教别人,也是对他们的耐心与交流能力的训练,同时也大大提高了他们的自信心。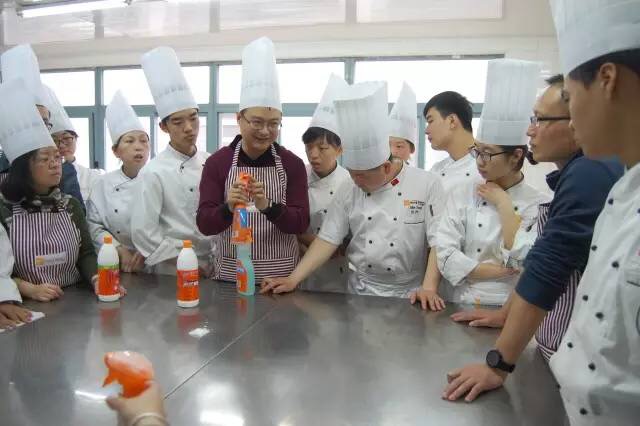 While the dough was baking in the oven, the volunteers and students joined forces for another task, actually the most important part of working in a kitchen: the cleaning! Under the guidance of the volunteers, the students put into practice what they had just learnt, amazed by the efficiency of the products! After the cleaning session, everyone gathered to admire the products they had baked, say the last goodbye and take a last group picture!
在等待蛋糕烤好的同时,志愿者们及学员们组队完成另一项任务,也是在厨房工作的最重要的一项工作:清洁!在志愿者的指导下,学员们用他们刚刚学到的知识,尝到了这些产品所带来的高效率的甜头。在完成了清洁之后,大家聚到了一起,欣赏他们刚刚烤好的产品,进行了最后一次道别,拍了最后一张集体照。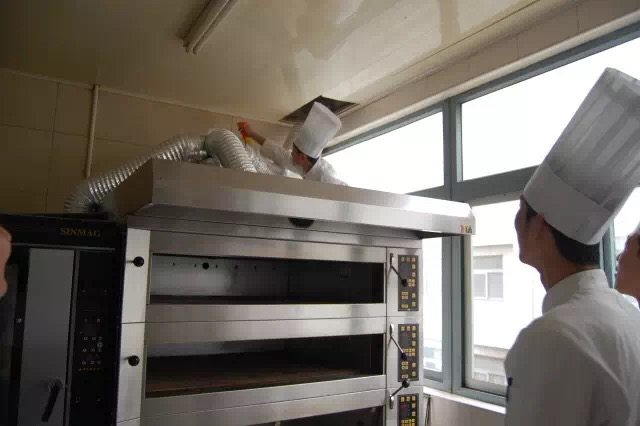 On behalf of SYB I would like to warmly thanks the SC Johnson team for their time and support to the Young Bakers' training.
我再次代表海上青焙坊,向庄臣公司表达我们最衷心的谢意,感谢他们付出的时间及对海上青焙坊的支持!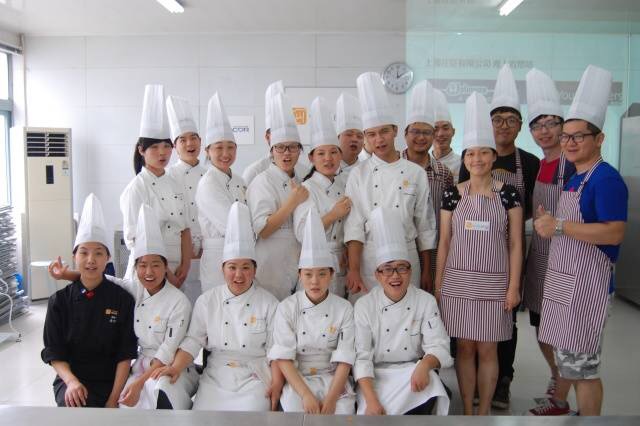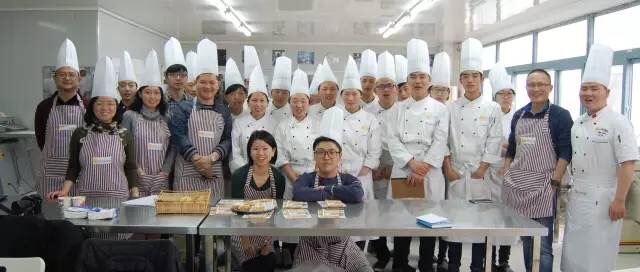 Emilie, Program director
艾米丽,项目主管
本文由SYB志愿者Lucy Li翻译