深呼吸 – Shenhuxi
海上青焙坊 – Shanghai Young Bakers
December 2010
Article by Xi Xi Luna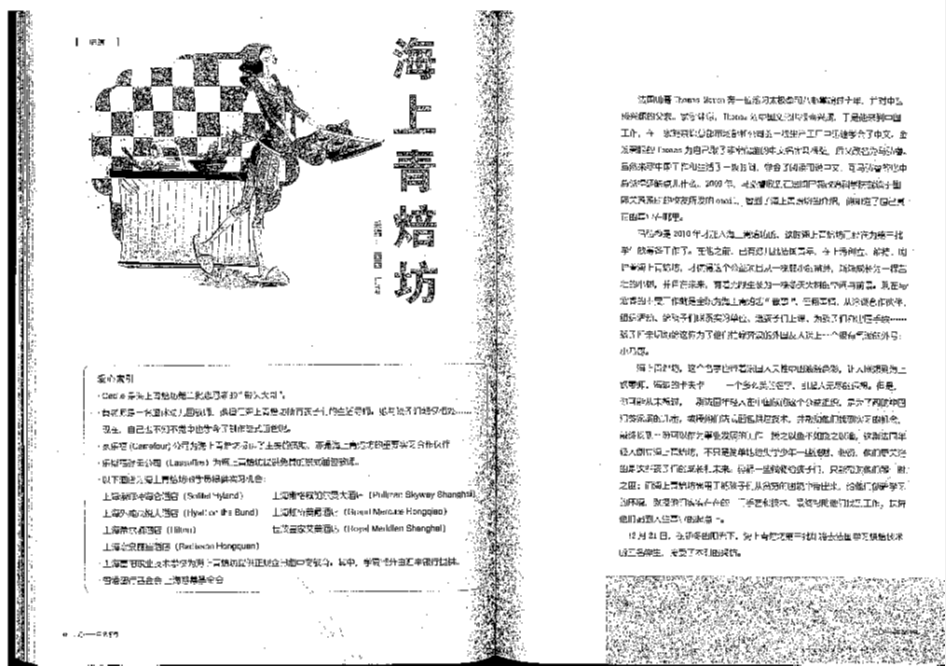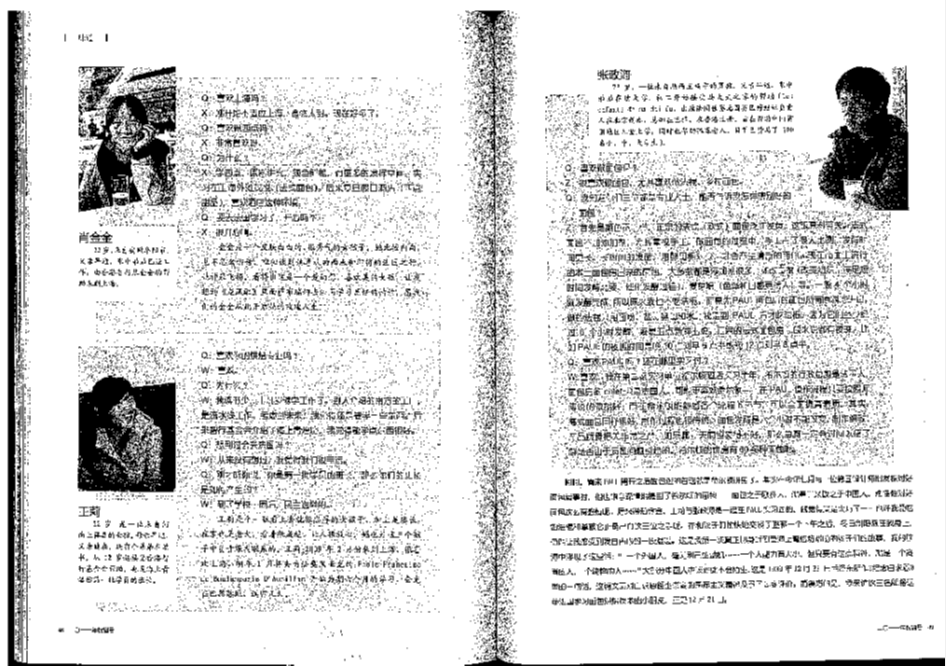 Background Information
Cecile is the leader of the second batch of volunteers at Shanghai Young Bakers.
Mr. Huang is a retired kindergarten school teacher and is currently in charge of the daily activities for the young adults at Shanghai Young Bakers. She interacts with them there everyday and has even learnt how to make some French bread now.
Carrefour is one of the main sponsors for Shanghai Young Bakers and is also an important partner in providing internship opportunities for the students.
Lesaffre provides Shanghai Young Bakers free of charge with teacher bakers experienced in making French bread.
The following hotels provide the students from Shanghai Young Bakers with internship opportunities: Sofitel Hyland, Hyatt on the Bund, Hilton, Radisson Hongquan, Pullman Skyway Shanghai, Grand Mercure Hongqiao, Royal Meridien Shanghai
Shanghai Caoyang Vocational School provides the Shanghai Young Bakers' students with regular-full time secondary education.
The associated school fees are paid by the HSBC bank.
Hongkong Chi Heng Foundation Shanghai Charity Foundation
***
Being deeply influenced by his father who not only practiced TaiJi and BaGua for over a decade but also has interest in Traditional Chinese Medicine, this charming man, Thomas Méron took on his job offer at the Marketing department of Schneider in China where he picked up the Chinese language rapidly. Thomas gave himself an elegant Chinese name Ma Meihong which was later changed to Ma Hongrui. Despite having stayed and worked in China for quite some time, and mastered how to read and speak Chinese, Thomas felt that there was still something missing deep down in his heart. In 2009, Thomas received an email from his schoolmate from the Paris School of Political Science, France when he was still studying International Relations there. This was also how he chanced upon the introduction of Shanghai Young Bakers and found his true calling.
Thomas Méron joined Shanghai Young Bakers in 2010 when the third batch of graduates from Shanghai Young Bakers was preparing to enter into the society with their new gained skills. Before Thomas, there have been several batches of young French who started, protected and put in effort to develop this public project from a weak budding sprout to a strong small tree, and hopefully into a tall self-sustaining tree with endless room for development and advancements. Currently, Thomas has taken on a full time "job" at Shanghai Young Bakers, taking on all tasks that need to be done for the project, ranging from discussing with current and potential partners, organizing activities, contacting organizations to look for internship opportunities for the students, to sending the students to classes, and even the administrative paperwork for the students to go overseas. As such, the students have given this friend coming from a foreign land yet giving all his time and energy to help them a nickname: Xiao Ma Ge (in other words, brother), looking up to him like their big brother.
The name of Shanghai Young Bakers in Chinese actually incorporates a touch of French romance, making people think about the pianist on the sea (Kafka by the seaside), and is indeed a beautiful name, leading to endless reverie. However, no one would have thought that this group of French youths started this public project with the intention to help the children from poor and needy families in China, to teach them how to bake French bread, find them internship opportunities and ultimately get them a career in which they can develop and advance from. Instead of giving these children money or other material goods they needed, this group of French youths imparted them life skills in which they can depend to get the items they need, be it money or others, through setting up Shanghai Young Bakers. They understood that by donating money or material goods to these children would only help them for that short moment; they wanted to seek another way to develop these children and give them a future. Shanghai Young Bakers is their solution, with its focus to bring these children out of the vicious poverty cycle by providing them with an environment to learn a life skill, find a job and ultimately pave out their own careers.
On December 21, in the warm winter sun, the three students from Shanghai Young Bakers, who were about to embark on a trip to France to further their education on baking, were interviewed.
***
Xiao Jinjin
Female, Age 22, From Anhui province, Fuyang city. Her father passed away when she was at a tender age. Her younger brother is currently working. She came to Shanghai with the aid of Hong Kong Chi Heng Foundation.
Q: Do you like Shanghai?
X: I could not adapt at the start; the food here is too sweet. However, things are better now.
Q: Do you like making Western pastries?
X: I love it.
Q: Why?
X: Western pastries are very particular in the ingredients used. They also come out in many different colours, which gives us a lot of room to explore and be creative when learning how to make them. I have previously interned at Hyatt on the Bund, making French bread there; and later moved to Crowne Plaza Shanghai Fudan to make Western desserts. I like to work in such hotel environment.
Q: Are you happy that you are going to France to further your studies?
X: I am delighted.
Jinjin is a fair-skinned and elegant lady. She tends to be more shy and quiet usually, except when she speaks about her favourite Western pastries and the study trip to France that she is about to embark on, there would be a spark in her eyes. This is a girl with dreams and a love for beauty, which reminds me of the scene in《Sabrina Fair》where Sabrina went to France to pick up culinary skills. Hopefully, Jinjin here would also embark on her la vie en rose.
***
Wang Li
Female, Age 22, From Henan province, Shang Cai county. Her mother passed away when she was at a tender age. Her father is still alive. Her younger brother is currently studying. Since the age of 12, she has been receiving help from Hong Kong Chi Heng Foundation, and is also the class leader of the first batch of students in Shanghai Young Bakers.
Q: Do you like your baking career?
W: Yes, I like it.
Q: Why?
W: I stopped studying at a very young age to start working in this society, hence do not have much education qualifications. All the jobs that were recommended to me in the past were at the assembly lines in factories. Upon consideration for my future, I thought that it would be better that I picked up a technical skill which I can depend on for a living. I was introduced to Shanghai Young Bakers by Hong Kong Chi Heng Foundation, and I truly feel that being able to learn a skill is very beneficial.
Q: Have you ever thought that you would be able to go to France?
W: That thought has never crossed my mind and I think we are all very fortunate.
Q: I heard that you were the class leader of the first batch of students in Shanghai Young Bakers. How is the class leader(s) chosen?
W: After a week at school, the class leader would be elected by the class.
Wang Li portrays an image of a honest girl; plus her role as the class leader, being the eldest at home, she gives the impression of a very dependable and steady person. She is also the contact person I have chosen among the three students. Wang Li arrived in Shanghai in Feburary 2009 and really liked it in Shanghai. She would be heading to Ecole Francaise de Boulangerie d'Aurillac in Southern France… to start on a 6 month studying term and will first land on Paris where she will stay for a few days.
***
Zhang Zhenghai
Male, Age 23, From Shaanxi Province, Bao Ji city. His father passed away when he was at a tender age. His younger brother is currently studying in university. He has been receiving help from Les enfants de Madaifu since his second grade. (Les enfants de Madaifu was originally founded by Doctors Without Borders (French branch) in Beijing, and headquartered at Paris, registered in Hong Kong. The aim is to help the children from poor and needy families in China to attend school, and also help the seniors without families. It has sponsored 100 students coming from primary, secondary and tertiary educational levels so far.)
Q: Do you like to make bread?
Z: I love to make bread, especially baguettes and country bread.
Q: Since all three of you are professional bakers, can you tell me how to distinguish a good bread from a bad one?
Z: First and foremost, the colour would be different. Authentic French (or European) bread are generally reddish yellow due to the ingredients used. For French bread you do not need to add preservatives, and craft is important. In the process of making French bread, working the bread stands a significant portion of time and the fermentation time is usually even longer. The long fermentation time and the use of relatively lesser yeast will produce fresh bread. All the locally-made bread sold in the current market are mostly added with a lot of preservatives such as improvers (which alter the composition of the bread, fulfill a shorter fermentation time, hasten the fermentation process), and maltose (which looks and tastes attractive), etc. These bread usually undergo about 4 hours of fermentation. Hence, I did not use to eat baguettes. However, Paul bread store uses all imported ingredients and uses only flour, salt, yeast and water to make baguettes. It is only after I went to Paul that I started to eat baguettes, because they underwent at least 6 hours of fermentation and are all fresh out of the oven every day at 5AM. An authentic French bakery would usually have a night shift; for example at Paul, the night shift is from 10PM to 6.30AM or 12MN to 8.30AM.
Q: Do you like Paul? Have you interned at other places before?
W: Yes I like Paul. My second internship company was at Hilton hotel for half a year. The executive chef at Hilton Hotel is French and so is the chef at the bakery. I probably liked Hilton more; because at Paul, I was only given the chance to follow the orders from the chef, but at Hilton, I was able to familiarize myself with the entire flow of baking and improve my baking skills on the whole. Actually, German bread is similarly good with comparatively traditional baking process too. The fermentation time is fixed at 6 hours, and requires very delicate workmanship, with strict guidelines to achieve top quality. If there is any day with bad sales, the head chef would definitely question if it is due to the bread quality. The Hilton bakery has over 60 types of bread now.
***
Well, it seems that with Paul leaving the bakery scene, Hilton bakery would be the next best option for bread lovers. Actually in July this year, as he was discussing baking recipes with a German designer friend, he similarly mentioned about Hilton bread with much affection – Bread to the Europeans is akin to rice to the Chinese. No wonder he has such strong passion for bread. I later found out that Wang Li and Zhang Zhenghai both interned at Paul together previously. This is such a coincidence. Probably my favourite baguette and Napoleon came out of the hands of these 3 bakers too. After an enjoyable afternoon session with the students, as the winter sun sets, I felt warmth deep down in my heart. This is the first time I hear it directly from the students who had received help from Shanghai Young Bakers. There were a few lines that floated in my mind, "a foreigner, with no self-profitting motives…regardless how small one's efforts might be, as long as there is this little bit of perservance and spirit, one can turn out to be a noble and pure person…" Most Chinese should not be foreign to this line which is taken from the article "Memory of Norman Bethune" written by Mao Zedong on December 21, 1939. This article gave Dr. Bai Qiuen's noble international spirit high appraisal and recognization. Coincidentally, the date on which I interviewed these three students who were about to embark on their study trip to France is also December 21.