Shanghai Daily
By Nie Xin | 2011-1-18 | NEWSPAPER EDITION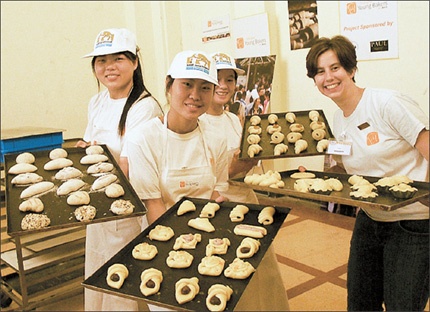 Three Shanghai Young Bakers beneficiaries (with cap) proudly show off the goodies they have made with a volunteer.
TWENTY-THREE-YEAR-OLD Wang Li grew up in a poor, single-parent family in Henan Province. She quit school at the age of 16 and went to work in a toy factory in Guangzhou, capital city of southern China's Guangdong Province. In 2009 Wang arrived in Shanghai in search of a better future and she was lucky – her future came to her. She joined a French bakery-training program for Chinese orphans and other needy young people.
The Shanghai Young Bakers (SYB) is an NGO offering premium training in French baking skills – and later job placement as bakers and pastry or dessert chefs. It was founded in 2009 by 12 Frenchmen in Shanghai. Wang graduated with high marks from the latest one-year course and left two weeks ago for a six-month advanced program in France. She is joined by two other SYB students, one from Anhui Province and the other from Hunan Province. The three are in training to become senior bakers and teachers to carry on and train more bakers in Shanghai.
The one-year training was launched in February 2009, offering intensive classes in French baking (and dessert) and Chinese baking, plus practical internships at partner companies. Cecile Cavoizy, a French volunteer in Shanghai, is accompanying three young women to France. Cavoizy who arrived in Shanghai eight and half years ago joined the SYB as a volunteer in 2009, while working for a French company as a human resources manager. She became absorbed by volunteer work and last May quit her job and went to work for the Hong Kong-based Chi Heng Foundation, which helps children and adults impacted by AIDS. Henan Province was the epicenter of the problem, she says.
Before 2000 many poor people were infected either by selling blood or by receiving transfusions of contaminated blood. Many died, leaving orphans or children in single-parent families. Cavoizy met many people from poor families and introduced some of them to the Shanghai Young Bakers program. "Doing charity is more challenging than my previous job in a company, but it's really interesting and meaningful," says Cavoizy.
Shanghai Young Bakers uses a French model of training and charity. After completing the one-year course, students are hired by prestigious bakery chains or hotels in Shanghai and across China. "We are not just giving them a fish, but teaching them how to fish," says Cavoizy. "There are many good bakers in France with over 20 years' experience. We hope our students can develop successful careers as professional bakers."
This is SYB's third session; 18 students are enrolled. Thirty-five students graduated from the previous two sessions. "We are proud of our graduates. They are widely regarded as hard-working, motivated and creative by many chefs who have worked with them in hotels and bakeries," says Cavoizy. One SYB graduate who is 18 years old recently took third place in a bakery competition in Shanghai and now is working at Sofitel hotel. "She told me that in order to make a perfect and creative entry in the baking competition, she didn't even sleep for two nights," says Cavoizy. Due to a limited budget, training sessions are limited to 20 students. Difficulty in funding is also why Shanghai Young Bakers continues to seek support from foundations and sponsoring companies.
"We also need to buy proper equipment for a traditional French bakery," Cavoizy says. The organization has one full-time organizer and nearly 20 volunteers working with young people. The original 12 French organizers included a range of business people, artists and housewives. Nine have departed and the current team is very international. "Volunteers come and go. But we hope the organization will continue and grow, to help more and more Chinese young people," says Cavoizy.
SYB also plans to train some graduates to be teachers, like Wang and the two other young bakers studying in France. After their return, they will work with top French baker Thomas Kalkhoven at SYB and train more young people.
To get more information or get involved, check www.shanghaiyoungbakers.com