Supporting SYB is delicious! A new catering service for good!
Greetings from Shanghai Young Bakers! While you are reading this article, I hope you are enjoying the first days of the coming winter. Cold but still sunny! Sun is everywhere: let me share today some meaningful and warm-hearted news about SYB!
I am so pleased to announce that we are partnering with Village 127, a social café and bakery in Shanghai (at 688 Nanjing West Road) to offer you a catering service for good! All order proceeds will be to the benefit of Shanghai Young Bakers and Village 127. Should you be a corporate or an individual, with our catering service, you will be able to buy not only classic and authentic French & Western style bakery and pastry products, but also – and perhaps more importantly – directly fund two social enterprises and one common charity program. That way, you will help disadvantaged young Chinese to become skilled bakers and find a job to live a decent life.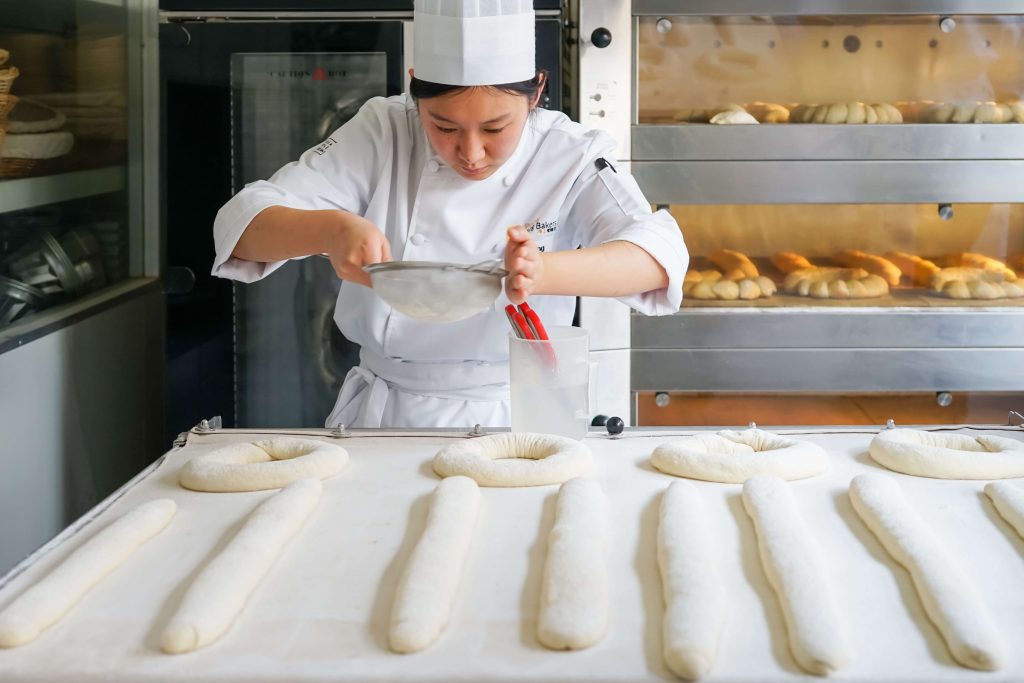 We are very proud of this extended collaboration! You may already know that Shanghai Young Bakers is under the governance of Chi Heng Foundation (CHF). 'Chi Heng' means "wisdom in action" and the CHF team moves from village to village throughout central China, offering help to all children whose families are affected by AIDS and students from families in poor financial situation, thereby ensuring that no child is excluded and each child's needs are fully understood. SYB is training French bakery and pastry for free to some CHF children, together with additional students,  recommended by other partner NGOs. For the teenagers/young adults we meet during our recruitment trip, should he/she be interested in a food related career, the SYB program might be a perfect match!
Chung To, CHF founder and chairman, strongly believed in the high quality of the SYB team more than 10 years ago and, one step further, he funded the social café Village 127 in Shanghai in July 2015, with a group of SYB graduates, to make live the professional baker jobs and offer a "give-back spirit" job opportunity to some SYB graduates. Since the beginning, Village 127 has been hiring some SYB graduates who are embodying the Chi Heng and SYB success story, while baking every day for you delicious western style recipes.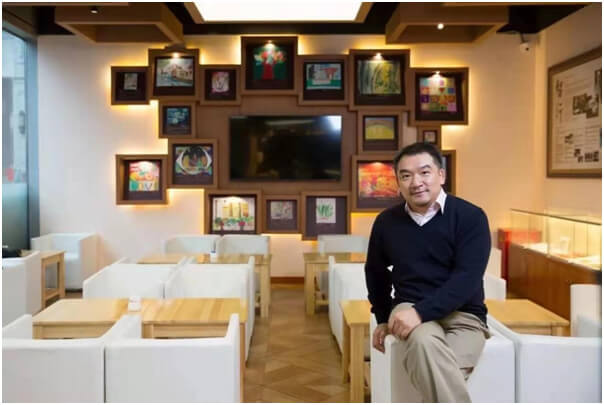 CHF founder and chairman, Chung To, in Village 127 (688 Nanjing West Road / Henderson Building, Square L105B)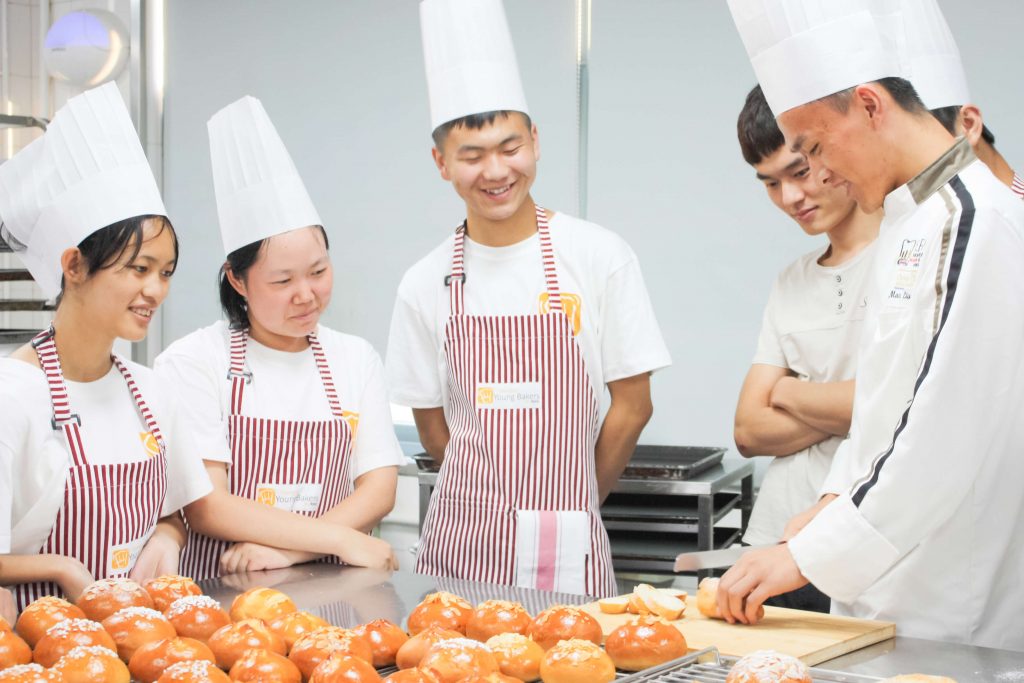 A scene in a  bakery class. On the very right is our  bakery teacher Liu Dong, who was our student and chose to become our teacher as a way of giving back.
The new catering service run by these two sister entities means more than a catering service to us. It shows how SYB is sharing its precious technical knowledge to the benefit of the program funding. It also embodies the professional and loyal commitment of the SYB community of graduates for the Shanghai Young Bakers program. SYB, at once, gave them a skill for a life and after this solid experience, they are giving back! We regularly meet our graduates' community for supporting events: celebrating the Festivals or supporting our social enterprise activities (by, as an example, assisting our teachers for a teambuilding activity or a public baking class).
Through this special partnership with Village 127, we will connect one more time with the bakery industry and our graduates. SYB teachers will train every month the baking team at Village 127 how to perfectly make the coming monthly menu designed by Shanghai Young Bakers. Our trainers will recommend how to use high quality imported ingredients for the orders, especially the ones from our supporting brands (Lesaffre yeast, Sinodis portfolio of products, Grands Moulins de Paris flour). Village 127 will maximize this fresh knowledge by adding the recently developed recipes to its regular catalog and by making them specifically for the SYB community of supporters.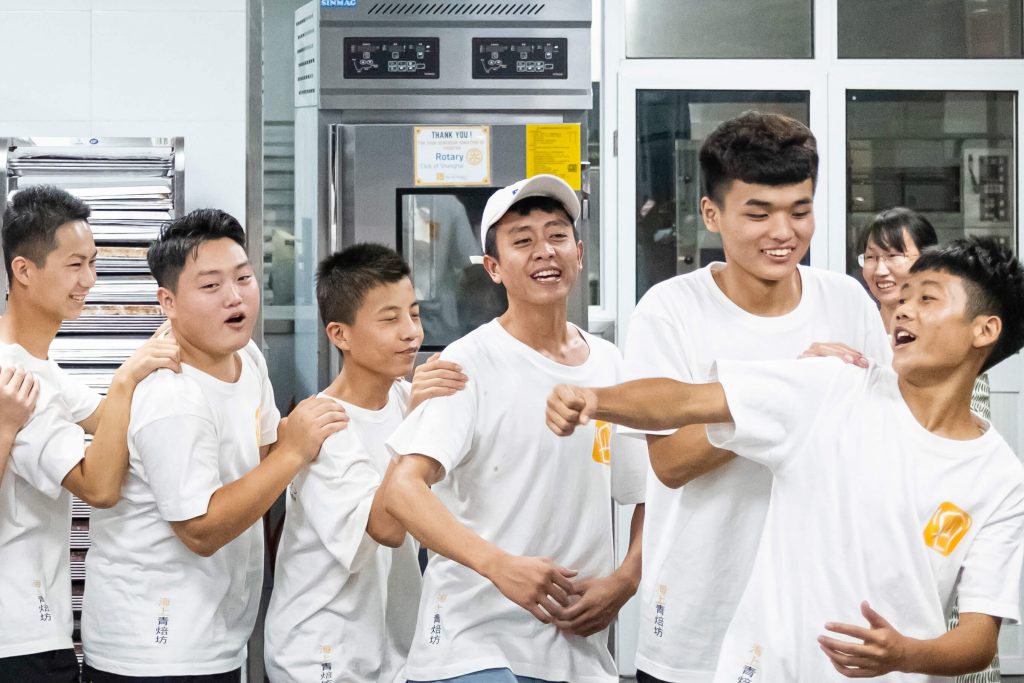 Some of the 12th batch students celebrating the 2019 Mid-Autumn festival.
Feel free to use and experiment this delicious way to bring funds to SYB (who will receive part of the proceeds), to support our students and make our free training happen every year!
Available every day, delivered to your place upon request, designed and supervised by the professional expertise of SYB technical director Xiao Jinjin (SYB 1st batch of students, 2009!), Check out the product catalog and order from the QR code below: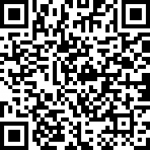 If you need specially baked products for your business events or personal parties, do not hesitate to talk to our consulting team from SYB, and we are happy to help you bake it happen!
Contact:Eve Wu
Tel:136 8168 7194
E-mail:baking@shanghaiyoungbakers.com
Wechat:
And please leave us a comment below if you'd like to tell us anything.
Enjoy!
Executive Director
Marie Augereau