Nov. & Dec. Market Review
Greetings, dear readers and supporters of Shanghai Young Bakers! We hope the end of the year is not too busy and runs smoothly for you.
Here at SYB, we have been quite busy with everything, and our markets activities are no exception. In November and December with the addition of Christmas markets and events, we often need to attend market events on both days during the weekend and sometimes even two markets on a single day! But our market team has handled them well. So big shout-out to the team: our bakery and pastry teachers, our market coordinator, our students who intern with us, and of course, all of our lovely volunteers!
In addition to the regular Jiashan and Commune markets which we have been for long attending, there are a few additional highlights in these two months.
First of all, it is the Shanghai American School Fall Carnival at their Pudong Campus on 2 Nov. It was a sunny and comfortable Saturday. SAS Pudong did an amazing organization for the event: there were excellent stage performances and a variety of high-quality vendors. Much to our team's surprise, the SAS Pudong students who had learned about us had made two amazing introductory boards about SYB to help promoting us at the school. On the day of the carnival, I am sure their efforts did help! Selling bakery products made by our sister social café and bakery Village 127, our booth was quite popular and one hour before the end of the event, we have cleared our stock for that day. So big thanks also to the SAS Pudong students!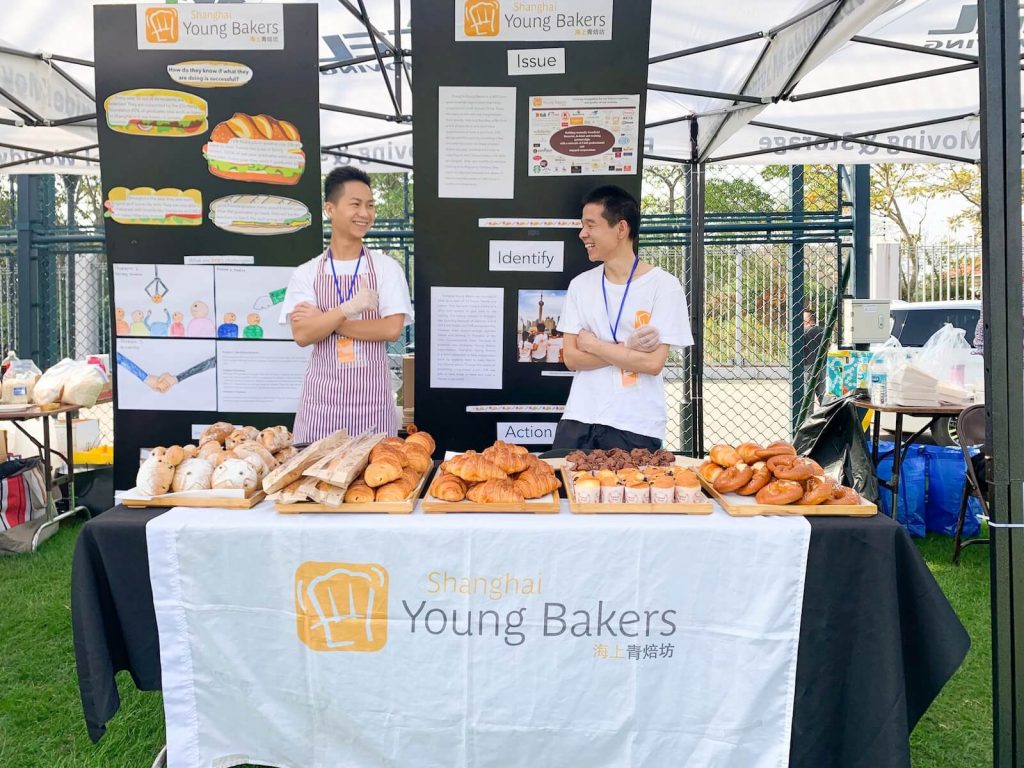 Our booth at SAS Pudong Fall Carnival, with two students from the current batch. At the back are the two boards made by some SAS Pudong students.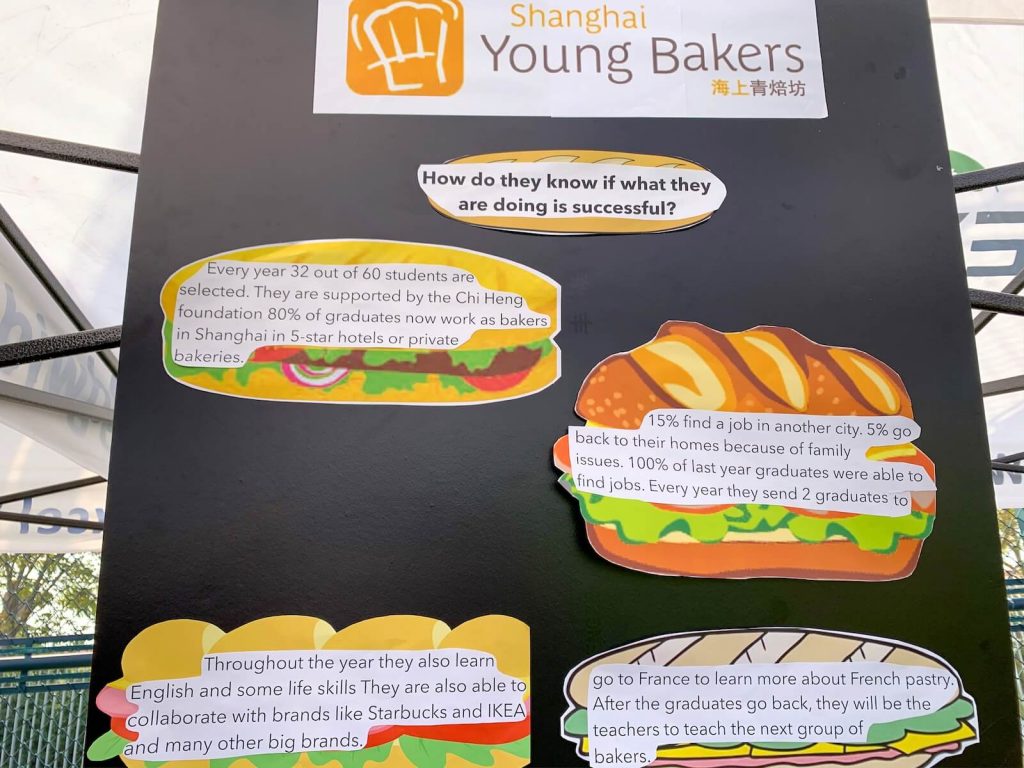 A bit detail of the board made by SAS Pudong students.

Another highlight of the markets in these two months is the selling of special Christmas bread at markets. Under the technical guidance of SYB, three kinds of Christmas bread made by Village 127 are sold: Stollen, Kouglof (German Gugelhupf), and Panettone. All of the Christmas bread are soaked with brandy and rum before the baking process. This leads to a mildly sweet and rich flavour that is hard to describe with language, but one that is also hard to forget. If you have not tried it yet with us, then please come to join us at Jiashan Market this Saturday 21 December, the last market we attend before Christmas and New Year.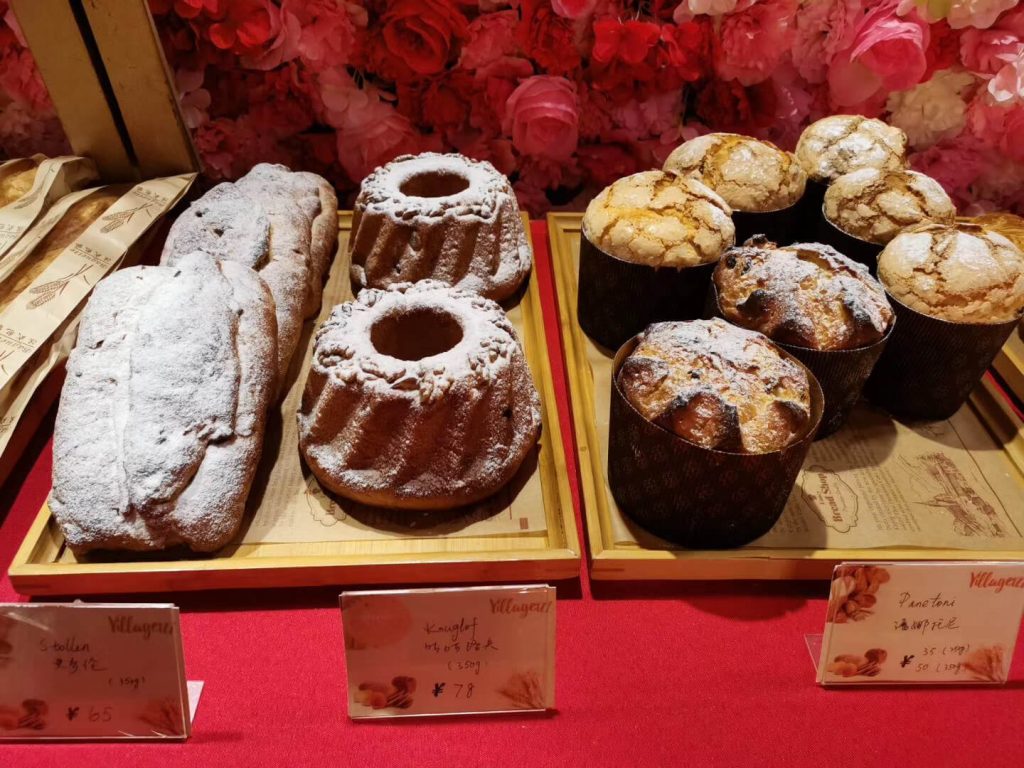 From left to right: Stollen, Kouglof, Panettone.
There are always good chances to connect with other wonderful people and organizations. Two weeks ago at Commune Market, we had three boy scouts from Troop 12 of Shanghai Boy Scouts of America helping us selling products. Last Saturday at Commune Market, SYB also received some Rotary Club of Shanghai members as our volunteers. These volunteers, like many others we have worked and are still working with, had helped a lot at the markets. Our market team also had great time with them.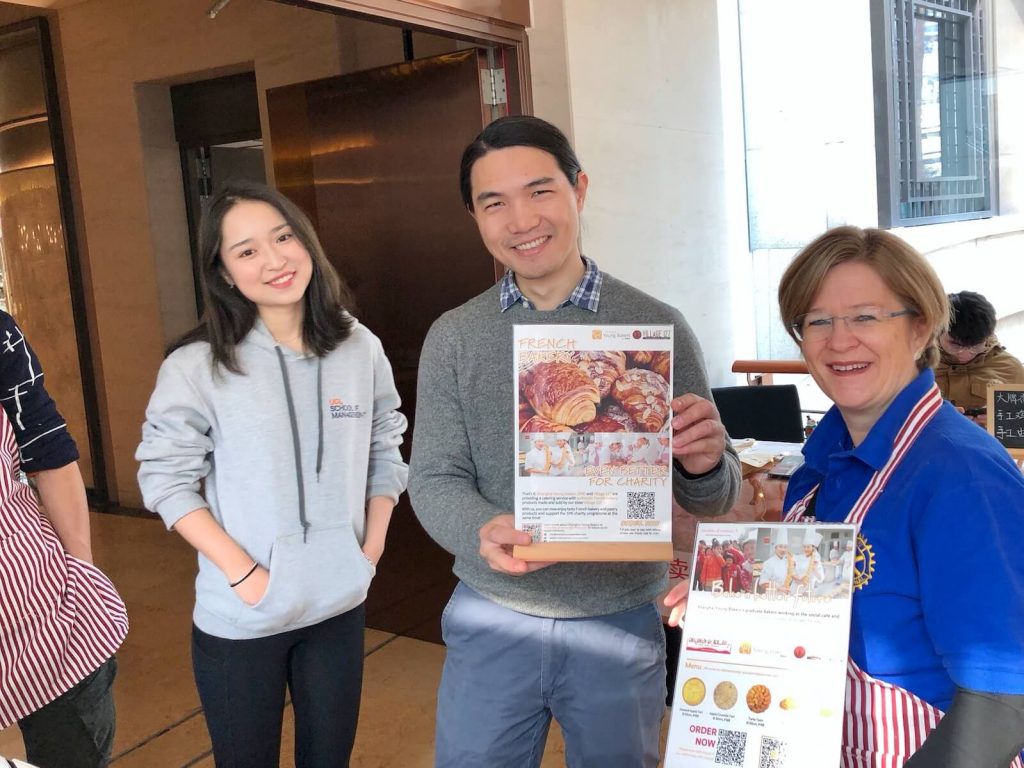 Rotary Club of Shanghai member and SYB market team members.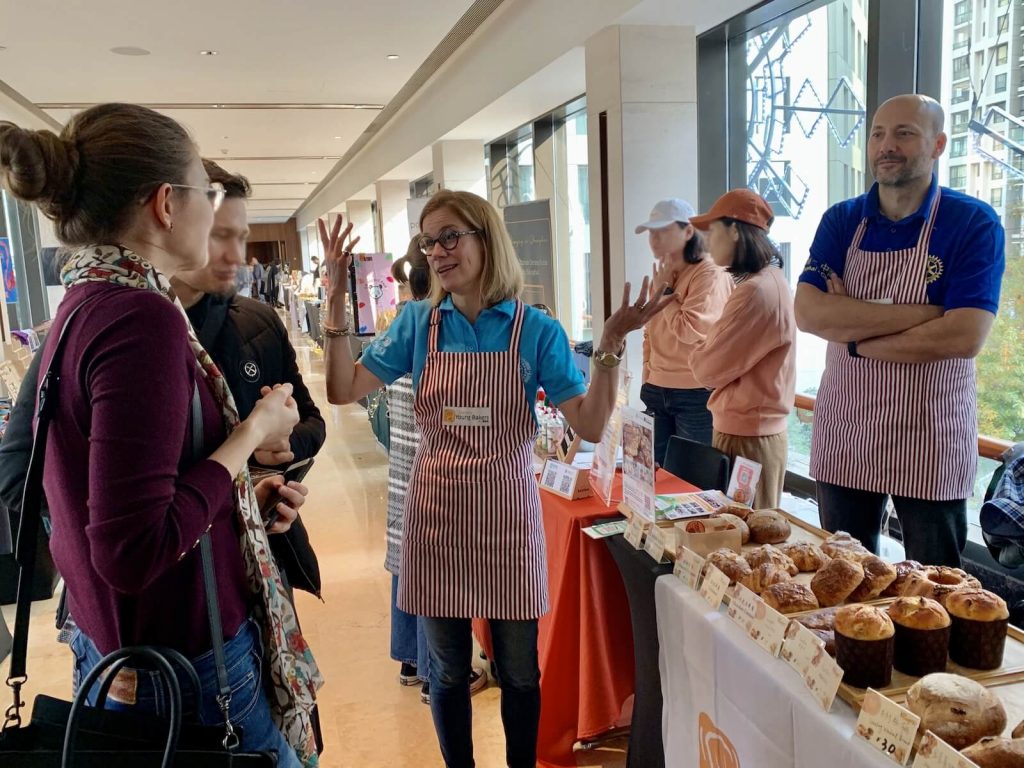 Rotary Club of Shanghai volunteers talking market visitors.
And so we would like to take this chance to sincerely thank every volunteer of SYB, our teachers and students, Village 127, and every partnered organization and market for your great and wonderful contributions to our market activities. We would also like to thank all the customers and supporters in our market activities. We wish you a very happy holiday and new year!
Please feel free to join us at our last market event this year on 21 December at Jiashan Market from 10 AM to 6 PM. Have a safe and pleasant journey if you are travelling, and we would be very happy to see you again in the new year!
Zane Wong Promotion Coordinator