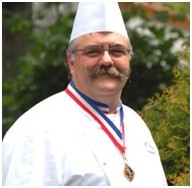 Master Baker Pascal Tepper Shares Baking Passion with Local Charity Shanghai Young Bakers
SHANGHAI, CHINA –Master Baker Pascal Tepper of France will give a special demonstration class to China's next generation of professional bakers in Shanghai on May 9, 2012.
The local charity Shanghai Young Bakers has been training the fourth group of bakery students for eight months now. On May 9, the trainees will benefit from Master Baker Tepper's years of experience in a special class arranged during his three-day visit to Shanghai. He made a special request to meet the students of Shanghai Young Bakers, a social innovation program offering a free, one-year training in French bakery to disadvantaged Chinese youth. Award-winning Tepper was invited by French yeast company Lesaffre, with the support of the French consulate, to be a VIP guest of the annual Bakery Fair in Shanghai.
"I am extremely pleased to return to Shanghai and participate in the growth of the baking industry in China. Meeting the enthusiastic students of Shanghai Young Bakers is always rewarding, as I can share my skills and my passion with these very motivated youth and give something back to Chinese society ," says Mr. Tepper.
The 2012 class of Shanghai Young Bakers are interns at top hotels, such as Marriott and Waldorf Astoria. Meeting Mr. Tepper, who obtained the supreme title of "Meilleur Ouvrier de France" as a baker in 2000, will be a highlight in their formal training in the Shanghai Young Bakers Program.
"Master Baker Pascal Tepper is a great role model in French baking and having him give us a lesson is a once-in-a-lifetime opportunity. We are excited to welcome him to the Shanghai Young Bakers Baking Centre," says current student Lei Yaowu, who interns at the Peninsula Hotel.
This will be the fourth time Mr. Tepper meets with the SYB trainees. Since his first visit to Shanghai in 2009, the baking industry in China has grown exponentially.
"Getting good traditional European bread in China used to be a challenge, but now traditional bread is extremely popular in China with Chinese customers who visit bakeries like Sunflour and Baker & Spice" says Cecile Cavoizy, Manager of the Shanghai Young Bakers Program.
"Our students make bread and pastries from French flour provided by Grands Moulins de Paris and quality ingredients provided by distributor Sinodis. We brought some homemade macaroons to our sponsor Carrefour for a taste and they absolutely loved them," Ms. Cavoizy says with a proud smile.
Wang Li, one of the three trainers in the Shanghai Young Bakers Program, agrees that the quality of bread in Shanghai is rising. Ms. Li was a graduate of the Shanghai Young Bakers Program before furthering her studies at the prestigious Ecole Francaise de Boulangerie d'Aurillac.
"I hope that after Master Baker Pascal Tepper's class, the students can be even more inspired to excel at the art of bread-making, and who knows, maybe become a Master Baker themselves!" says Ms. Li
ABOUT PASCAL TEPPER:
Master Baker Pascal Tepper was born in Pecquencourt in Northern France into a baking family. He started as professional baker in France and Beligium, perfecting his skills in baking, pastry and chocolate for seven years before taking over his family bakery. Mr. Tepper received the "Meilleur Ouvrier de France" as a baker in 2000 from the French government in recognition of his achievement in professional baking. Mr. Tepper has promoted French baking around the world through professional and humanitarian projects.