Shanghai Young Bakers has just celebrated its 10th graduation ceremony, but this is no time to rest for the SYB team!

Shanghai Young Bakers welcomed its first batch of students in February 2009, and at the beginning we organised our bakery training in spaces provided by partner companies and partner schools. In February 2011, thanks to the support of the French company Roquette, we rented and set up our own baking centre for the students' training, in a building close to the students' dormitories. This allowed us to purchase and make use of adequate professional equipment, teach French bakery in the utmost respect of French bakery training standards, and take advantage of the space to develop commercial activities (public classes, event catering, technical consulting) which raise funds for the charity training program.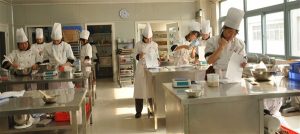 Over the years, having seen more than 200 Young Bakers develop their technical skills and more than 2,500 commercial clients take part in fun, professional, meaningful activities, the Baking Training Centre started to be in dire need of renovation. Some structural imperfections – that could not have forecasted in 2010, when our program was still at its infancy – as well as normal wear and tear, meant that our baking centre started to face issues linked to water damage, electricity consumption inefficiency, overall safety, layout inconveniences…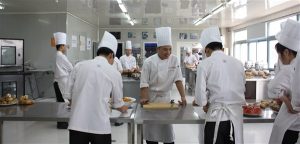 It was then that once again, we were moved by professional partners' willingness to help us in our mission!First, Solidarity AccorHotels – who has been supporting most of the costs associated with our baking centre since 2013, and whose hotels (Sofitel, Grand Mercure, Pullman) have provided internships to our students since the very start – jumped on board as soon as they learned of our needs, and agreed to fund a major part of the renovation cost.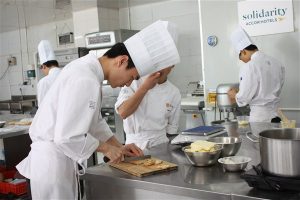 And then, Saint-Gobain volunteered to chip in. As the leading manufacturer of building materials, and one committed to invest in vocational training for the better inclusion of marginalised populations, helping with the renovation of a classroom dedicated to empowering disadvantaged youth made perfect sense. Of course, the fact that SYB's executive director used to work at Saint-Gobain and still has fond memories of her colleagues and the atmosphere there certainly helped cement the cooperation! Saint-Gobain Foundation agreed to contribute an impressive amount, and made it possible for the renovation project to go forward.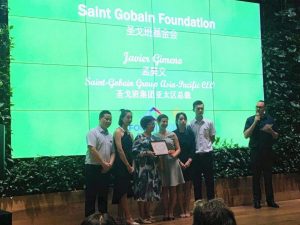 By a strange coincidence, it so happens that both Solidarity AccorHotels and Saint-Gobain Foundation are each celebrating their 10th years of existence, just like SYB! This is surely an excellent omen for the renovation of our baking centre.And so it was that, two days after our 10th Graduation Ceremony, we started clearing our beloved baking centre.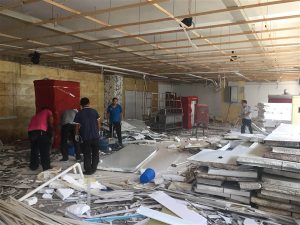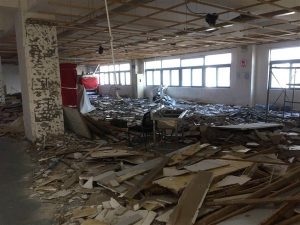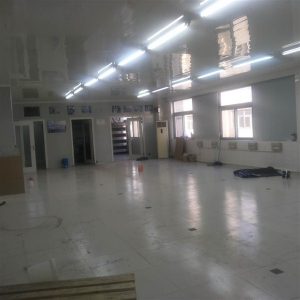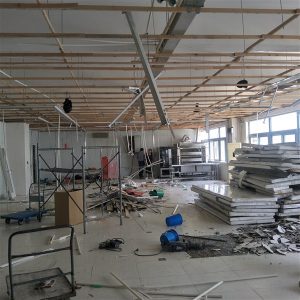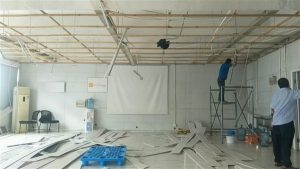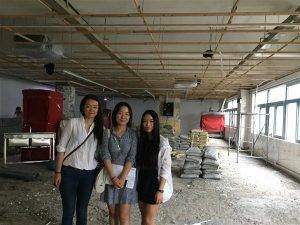 Saint-Gobain volunteers Zhuang Xinru and Li Jingwen visiting the renovation works with SYB Technical Director Xiao Jinjin
The works will go on until 22nd August, just before our 11th batch of students arrive in Shanghai to become their one-year bakery training!We will continue to share with you the pictures of the transformation. A big thank you again to Solidarity AccorHotels and Saint-Gobain Foundation to make this dream come true, thanks to you our baking centre will be more beautiful, professional, safe, and efficient than ever!
Cecile
Executive Director, Finance & Strategy