"Growing for ten years, baking for the future." With the graduation of Shanghai Young Bakers' 10th batch of students, SYB has once again completed the effort to help young people "grow" from poor families and trained them to become high quality and excellent bakers. At the career fair on the afternoon of July 9, we and six different companies jointly provided the 10th batch of students and four graduates with a platform to find new job opportunities. They will also take a new step in life and open a new chapter in their lives.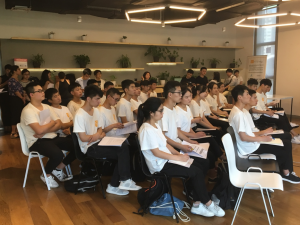 First of all, as in previous years, our old friend, Ms. Sissy from Chiheng Foundation introduced Village 127 to everyone. Village 127 is a social enterprise cafe owned by Chiheng. Together with the Pastry Manager Chen Hongtao, who's also a graduate from SYB's 4th batch, Village 127 hopes to provide a baking employment platform and hopes that more SYB students will join Chiheng's social enterprise.

Pain Chaud already has two bakeries in Shanghai, and the third new bakery is on Jianguo West Road in Shanghai. Pain Chaud hopes to find talent bakers through the career fair. In the presentation, the marketing and communication manager, Ms. Tingting Hu, explained that "Pain Chaud" is a French word, meaning "warm bread". Pain Chaud is committed to bringing the French traditional bread/dessert food culture into people's daily life. SYB 4th batch graduate Feilian Zhang is currently working at Pain Chaud.

Breatique has a famous and high rating bakery at the Huaihai Road shopping district. In September, a new bakery that is located at the Lujiazui business district is also about to open. Mr. Guo shared the brand story behind Breatique and emphasized the pursuit of healthy lifestyle. He also showed the students their most popular products and the pictures of products really impressed the students.

For this career fair, we also welcomed Le Grenier a Pain from Beijing. Le Grenier a Pain is a well-known French bakery brand with branches all over the world. Mr. Zhou emphasized to SYB graduates that he hopes that future employees will be able to treat traditional French baking seriously in their work. Le Grenier a Pain provides a great opportunity and a platform to grow for students who want to develop in Beijing.
 
For the second year, Starbucks joined our career fair. As a world-renowned company, they enthusiastically brought a team to interact with students and to present about their company culture and opening positions. Among them, Ma Chao, who's our 9th batch graduate, shared his working experience at Starbucks. They also expect SYB students to join them and become their "partners."

The career fair continues to showcase the diversity of the participating companies: the final participant is Nat from the UK. He wanted to recruit chefs for Homeslice Pizza- a New York-style Pizza store. Nat shared his entrepreneurial story and his passion for the restaurant industry. He also brought a big pizza to show to the students, which made the students even more amazed. Homeslice Pizza team used their sincerity to let students see more possibilities for career paths.

Following company presentations, the information & interview session begun. After some initial shyness and hesitation, the 10th batch of students marched to their potential employers in small groups and introduced themselves. Representatives from each company got to learn more about their professional skills and personal qualities. Next, students asked specific questions regarding the positions. For example, what kind of products they would be expected to make and what one's career development would look like in the long run.
 It was such a pleasure to have this great selection of participants at this year's Career Fair! On behalf of the SYB team, I would like to thank each and every participating company for recognizing our vision and for traveling extra miles in your search for qualified bakers in support of our charity program! Your participation has enriched our graduates' career options. Your participation provides alternative job opportunities for students and the career fair construct the bridge of communication among companies and students.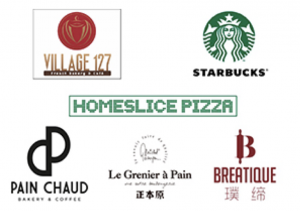 To 10th batch students: congratulations on your graduation and may you all find your dream jobs and thrive in the professional world!
Rongfei Jiang
Partnership & Events Coordinator